Monza GP3: Daniel Abt wins amid disaster for points leader Mitch Evans
| | |
| --- | --- |
| By Charles Bradley | Saturday, September 8th 2012, 16:27 GMT |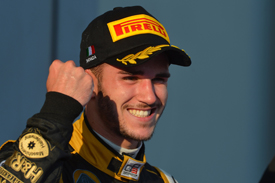 Daniel Abt took a massive victory in the opening race of the final weekend of the 2012 GP3 Series at Monza, keeping his title chances alive as points leader Mitch Evans retired on the opening lap.
From seventh on the grid, Abt beat Tio Ellinas to the finish line by 0.3 seconds after a thrilling, and totally unpredictable, race.
The opening corner set the tone for the race, as title rivals Evans and Antonio Felix da Costa - who started on the front row - had to straightline the first chicane while leaders Matias Laine and Ellinas collided in front of them.
Evans's car appeared to sustain damage by either bouncing across the sleeping policeman or contact later in the lap, as he took a trip through the gravel at the Lesmos while placed seventh. He then toured into the pits to retire.
Evans looked dejected, as nearest points rival da Costa worked his way past Laine into the lead at the start of lap two. But the man on the move was Abt.
Fourth at the end of lap one, he passed David Fumanelli for third at Rettifilo and then towed past Laine for second on the start/finish straight a lap later.
Abt passed da Costa for the lead at the Roggia on lap five, but now he had a new challenge from behind, as Lotus team-mate Aaro Vainio got in on the act.
Vainio, who could also win the title at this point, passed da Costa when he slid wide at the Parabolica. Da Costa then spectacularly bumpdrafted Vainio all the way down the start/finish straight, but moments later da Costa's car was touring, stuck in gear.
With his dashboard flashing like a Christmas tree, da Costa had the foresight to come to a halt in the Rettifilo escape road to switch his car off and back on again, which solved the gearbox issue. However, he rejoined down in 19th, and could only recover to 15th by the finish. His title challenge is now over.
Having dropped as low as ninth, after almost leading into Turn 1, Ellinas went on a storming charge. Setting a succession of fastest laps, he caught leaders Abt and Vainio with four laps remaining.
He passed Vainio at Rettifilo on lap 14, and was right on Abt's tail by the finish. However, he could not pull a last-corner move, as Dmitry Suranovich had gone off at the Parabolica on the penultimate lap.
Although the positions remained the same to the chequered flag, stewards were forced to give Vainio a 20s penalty for setting his best last sector time under waved yellows, which dropped him from third to 11th - ending his title bid.
For Abt, it was his second win in seven days following his triumph at Spa.
"To be honest, I didn't expect this," said Abt. "I had too much understeer in qualifying. I said to my engineer, 'Just give me oversteer for the race' - and it was fantastic to drive.
"It was a crazy race, and I just had to defend. It's tough to pull away here. Two wins in seven days, that's what I call a good week!"
Laine inherited third, ahead of Conor Daly, Patric Niederhauser and Fumanelli.
Evans goes into Sunday's final round on 151.5 points, 14 points clear of Abt - who will need to win the race to steal the crown. However, Abt will start eighth on the reversed-grid, one place behind where he won from in race one, with Evans down in 25th.
Results - 16 laps:

Pos  Driver                  Team          Time/Gap
 1.  Daniel Abt              Lotus       28m17.548s
 2.  Tio Ellinas             Manor         + 0.349s
 3.  Mattias Laine           MW Arden      + 1.881s
 4.  Conor Daly              Lotus        + 14.108s
 5.  Patric Niederhauser     Jenzer       + 14.602s
 6.  David Fumanelli         MW Arden     + 16.401s
 7.  Marlon Stockinger       Status       + 16.750s
 8.  Giovanni Venturini      Trident      + 16.836s
 9.  Tamas Pal Kiss          Atech CRS    + 17.712s
10.  Will Buller             Carlin       + 18.242s
11.  Aaro Vainio             Lotus        + 20.593s
12.  Alice Powell            Status       + 26.101s
13.  Kevin Ceccon            Ocean        + 28.448s
14.  Robert Visoiu           Jenzer       + 28.795s
15.  Antonio Felix da Costa  Carlin       + 29.375s
16.  Vicky Piria             Trident      + 34.411s
17.  John Wartique           Atech CRS    + 46.207s
18.  Ethan Ringel            Atech CRS    + 51.238s
19.  Lewis Williamson        Status     + 1m00.707s
20.  Robert Cregan           Ocean      + 1m01.569s
21.  Carmen Jorda            Ocean      + 1m30.934s

Retirements:

     Dmitry Suranovich       Manor          14 laps
     Alex Brundle            Carlin         10 laps
     Mitch Evans             MW Arden         1 lap
     Fabiano Machado         Manor            1 lap