Cosworth determined to stay in Formula 1 beyond 2013
| | |
| --- | --- |
| By Jonathan Noble | Sunday, September 2nd 2012, 11:51 GMT |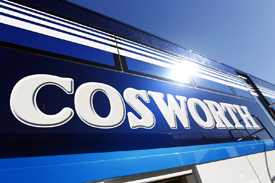 Cosworth is ready to commit to building a new Formula 1 engine for the V6 era in 2014, as it rubbished suggestions it plans to leave the sport at the end of next year.
There has been talk in recent weeks from leading paddock figures that there would be just three engine manufacturers after next year - Ferrari, Renault and Mercedes-Benz.
That came following the PURE company's decision to suspend its operations because of financial issues, and uncertainty over Cosworth's intentions.
However, speaking to AUTOSPORT in the wake of a fresh deal with Marussia for 2013, Cosworth's general manager of F1 Kim Spearman made it clear the famous engine company is pushing to secure its longer-term future in F1 too.
"We are ready to supply engines for 2014," he said. "Initial discussions have been had with some people, and I think by the end of September we would like to know where we are. But I don't think we have to have all the t's crossed and the i's dotted by then. It can go a little bit longer than that."
Although it is believed that all three current car manufacturers in F1 have begun bench testing of their next engines, Cosworth says that there is still more than enough time for it to development an all-new power unit for the start of the 2014 season.
"Regularly we have done clean sheet of paper engines in 10 months," he said. "It is something we can do and have done time and again over the years. We would like a bit more than that because it is a complicated engine, but there is still a good amount of time left to do one. We are not particularly stressed at the moment about getting it done."
Cosworth's group head of marketing Pio Szyjanowicz said that the company would not reveal who it was speaking to about 2014 - but insisted that any deals would have to make commercial sense for both parties.
"I think what we have seen from Craig [Pollock, head of PURE] putting things on hold is that it demonstrates just how difficult the marketplace is," he said.
"We have said time again that a solution needs to be commercially viable, and it would be remiss of us not to offer something that was commercially viable. The sport owes it to the fans and teams, and everybody involved in our industry, to make sure that they produce something that is sustainable and makes commercial sense.
"We will remain fairly private about our discussions until we have got to the point where we can reveal them to everybody, but commercial confidence is highly regarded in Formula 1. Everyone is trying to understand their options and there are still plenty of them.
"From our point of view we stand ready to provide a competitive engine whatever year that is required."
Cosworth this week announced a new deal with Marussia for next year, and it is in discussions with HRT about extending its deal there for 2013 too.
"We have one team signed and the other team we are working with and expect an announcement in the next 10 days," said Spearman. "Hopefully both teams will go forward for next year."