Belgian GP: McLaren says Lewis Hamilton backed controversial wing choice
| | |
| --- | --- |
| By Jonathan Noble | Saturday, September 1st 2012, 17:58 GMT |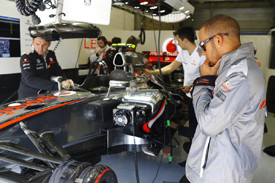 Lewis Hamilton had been in favour of the decision to switch to the higher-downforce rear wing in qualifying for the Belgian Grand Prix - despite the controversy that choice ultimately caused.
Hamilton's lack of straightline speed because of the wing left him unable to challenge McLaren team-mate Jenson Button for pole position and he ended up seventh. Afterwards he expressed his frustration on Twitter.
Although McLaren concedes that it was a mistake to move away from the new low-downforce specification that Button used to such good effect, the team has revealed that everyone believed beforehand it was the right move.
McLaren technical director Paddy Lowe said: "It is something we all discussed together. Those are quite big decisions, so everyone is consulted.
"We rarely make a decision that everyone doesn't agree with, because we make decisions based on rational thinking, rational arguments and, if you follow such a process, which is not an emotional one, you ought to reach a point where it is not a question of a vote, not a question of half thinking one thing and half thinking another and then disagreeing.
"You will reach the same conclusions that it is the right verdict and that is exactly what happened to Lewis."
Speaking about the matter himself, Hamilton said: "In P3, I had some instability with the new wing that we tried. At the time, we had a relatively big gap between ourselves and the Red Bulls and the Ferrari, so we felt on our side of the garage that we should try something to fix it.
"For us, it was to potentially go to the wing that we used in the last race. I was told... we believed that the gap between those two wings wasn't so big but we proved ourselves wrong. It was obviously the wrong way to go but we made a decision as a team."
Lowe says that the decision to opt for a different downforce configuration was not a wild gamble – and that other drivers like Kimi Raikkonen made a similar choice.
"It is a perfectly valid choice around here," he said. "It is not as though it is some sort of outlandish gamble. It is one we had seriously considered before we came here as a perfectly valid configuration.
"If you look at Raikkonen's split of sector times and his speed with and without DRS he is in exactly the same place as Lewis, so there is no sense in which Lewis is on his own and picked a dud strategy.
"It is a very valid strategy, to qualify and race around here. One of his principal competitors, Kimi, is running that same strategy and we will see where it gets us. The points are scored tomorrow."
Lowe also said he did not find it strange that Hamilton had taken to Twitter to vent his feelings about the situation.
"I think in frustration at not getting pole position, which is always Lewis' objective, it is natural to look at where we might have gone wrong," he said. "We will be looking at what are the differences between him and Jenson and why couldn't we get performance, which ought to be there on paper."
Hamilton's comments on Twitter were later deleted.