Belgian Grand Prix: Formula 1 drivers not worried by loss of Friday running
| | |
| --- | --- |
| By Jonathan Noble and Matt Beer | Friday, August 31st 2012, 16:44 GMT |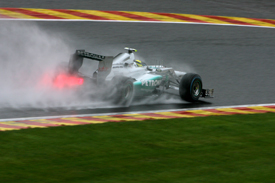 Leading Formula 1 drivers have played down the loss of Spa Friday practice mileage to heavy rain.
Wet weather affected the whole day in Belgium, and although many teams went for relatively long runs in the morning, no one tried a flying lap at all in the afternoon.
Jenson Button said: "P1 was better because you could do a couple of laps. There was aquaplaning on the straights, but it was safe enough to do some running.
"But P2 was extremely wet, and the only reason why anyone ran was to do out and in-laps to practice starts.
"Most of the lap you aren't pushing, and you can't really because on the straight after Eau Rouge it gets wetter, it's a different type of asphalt."
Mercedes driver Nico Rosberg was the first to try a lap in practice two, and said he was confident his team could hit the ground running on Saturday even without any dry laps on Friday.
"We always come to a race with a very good starting point with past knowledge and so that is what we will do tomorrow," he said.
"Last year we had no dry running until qualifying. This year tomorrow should be dry so it is not a problem."
Lewis Hamilton is optimistic that McLaren's simulator resources mean it could be in better shape than some rivals as a result of the weather.
"It's been incredibly wet, lots of rivers on the track, with no real benefit bombing around, except trying to find out if the updates were working," he said.
"Everyone is in the same boat, so it's going to be very interesting trying to find the correct set-up in the short space of time we'll have tomorrow.
"Hopefully our simulator has helped us so we are best prepared."
World champion Sebastian Vettel said he felt sympathy for fans who had sat in the rain to see little track action.
"It's a shame when there's so much water, as we'd love to go out on track more, but you can't," he said.
"It's a shame for fans around the track - it's quite windy and probably not so nice out on the grandstands.
"Hopefully they can come back tomorrow with dry clothes and we'll have some sunshine - that's the forecast anyway!
"You can't race in these conditions, as the tyres can't get rid of the water."