Sebastian Vettel says 2010 title fight gives him hope for championship
| | |
| --- | --- |
| By Simon Strang and Matt Beer | Friday, August 31st 2012, 08:46 GMT |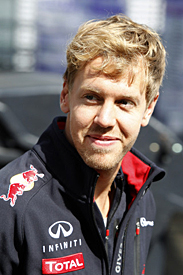 Sebastian Vettel says the experience of coming from behind to win his maiden title in 2010 gives him hope for this season.
The German did not lead the world championship at all before clinching the crown with victory in the Abu Dhabi finale two years ago.
But he argued that this year's points situation was a better reflection of Red Bull's pace, whereas in 2010 the team had squandered a lot of points before its late charge.
The reigning champion is currently 42 points behind leader Fernando Alonso in the Formula 1 standings.
"The most important race to lead the championship after is the last one, and we had that experience in 2010," Vettel said.
"If you compare this year to any year, at least for myself, then probably 2010 is close.
"But equally I think we made a lot more mistakes in 2010 - myself and the team. I think we lost a lot more points than this year so far.
"This year there are probably two races standing out where we should have scored more points.
"One is Valencia, which is easy and obvious, and the other one is probably Malaysia, but that was a racing incident [with Narain Karthikeyan] so I'm not regretting what happened and these things happen to other people as well.
"Sometimes you have a year where they don't happen and for sure for some of the guys, these things will happen in the next nine races.
"We have to look after ourselves and be on top of our game. I think that's the lesson we learned in 2010."
As was the case in 2010, Vettel's title rivals include his Red Bull team-mate Mark Webber, who is two points ahead at present.
The points gaps between team-mates in the other championship-chasing teams are much larger. But Vettel does not think having an intra-team fight to contend with again will put him at a disadvantage against Alonso and Lewis Hamilton.
"Obviously if you look at the table now that might be the impression you get," said Vettel. "It could be completely different five races down the road, so we'll see.
"I think the message is that we are free to race, and that's what we have been doing every since I've raced against Mark at Red Bull Racing. That's what we'll continue doing. It's nothing new for us.
"I think if you asked Jenson [Button] whether he's happy to be the number two [at McLaren], I think his answer will be self-explanatory."