McLaren: Clinical finish key to 2012 F1 title hopes
| | |
| --- | --- |
| By Jonathan Noble | Thursday, August 23rd 2012, 11:03 GMT |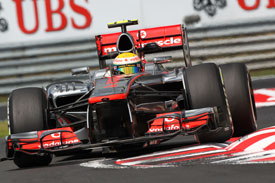 McLaren believes that making more of its opportunities is key to its Formula 1 title hopes over the second half of the season.

Team principal Martin Whitmarsh thinks the outfit has the basic car package it needs to triumph - but it has so far failed to get the best out of its MP4-27.

That state of affairs has helped Fernando Alonso in the Ferrari, which started the season off the pace, to open up a healthy lead in the title chase.

In an exclusive interview with AUTOSPORT, Whitmarsh says the team knows where it has under-performed so far - but he sees no reason to be downbeat because there is still everything to play for.

"In the first 11 races we were on the front row eight times, so the car is not slow in qualifying at least," he explained.

"But this season has been difficult for everyone – and you would have to say Fernando and Ferrari have done a great job: one in terms of development and two in terms of getting the best out of the package.
"We haven't got the best out of our package."

McLaren had headed into the campaign convinced that if it started the season with the quickest car, its historical strength in development would help it maintain its edge for the whole campaign.

However, Whitmarsh says the season did not pan out in the way it had hoped because of the complications caused by Pirelli's 2012 tyre characteristics, as well as growing pains the team experienced in ramping up its pit stop performance.

"The tyres have been a real challenge," he said. "There are a number of parallel paths that you now have to tread, and one is that whatever else is going on, you have to make the car quicker.

"We have been working hard on that and made a bit of progress, but you have to avoid mistakes as well. We have made a few mistakes, and you have to eliminate them, but we have made a bit of progress there.

"This year in particular you have got to get the tyres into the sweet spot, and we have made some progress, but just as you try and get on top of the dry tyres then the challenge of intermediates and wets starts.

"You have to say in Britain we were quick in the dry, quick in the wet and poor on the intermediate, and then at the next race [in Germany], we were quick in the dry, quick in intermediate and poor in the wet, so it's not easy. But it is an interesting challenge."

Although Hamilton is 47 points adrift of Alonso in the drivers' title chase, and McLaren 52 points behind Red Bull Racing in the constructors' battle, Whitmarsh thinks the gaps are still small considering how many races are left.

"We are learning, we are improving the car – but none of it happens as quick as we would like.

"However, I think we are on more solid foundations and we are making some progress. There are lots of points up for grabs, and that is what we have to keep reminding ourselves.

"But we must not get obsessed by that; we must be obsessed by doing everything we can at each grand prix to have the quickest car, to not make mistakes, to ensure that we get as good an understanding of the tyres as we can, set the car up as well as we can, execute a good qualifying and then deliver a good race."