Ferrari denies having a manually-adjusted ride-height system like Red Bull
| | |
| --- | --- |
| By Jonathan Noble | Thursday, August 2nd 2012, 10:35 GMT |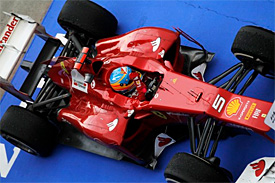 Ferrari has strongly refuted claims from rivals Red Bull that it has been running a manually-adjusted ride-height system in Formula 1 - on the back of the latest technical controversy that erupted at the Hungarian Grand Prix.
Red Bull found itself last weekend having to deny suggestions that it breached the sport's regulations by having a system on its car that could adjust the ride height without the use of tools.
It had emerged that the FIA had asked the team to change its design in Canada, because the governing body felt the effort required to make set-up alterations was too low.
Red Bull's motorsport advisor Helmut Marko has not only denied his team ever made changes to its car's set-up by hand - but he has also questioned why his team aroused suspicion because he claimed Ferrari had run an identical design.
Speaking to Auto Motor Und Sport, Marko said: "We have never adjusted anything by hand. I don't know why the others are upset – we know Ferrari has used something like that for a year."
But Ferrari says Marko's claims are incorrect – and that the outfit has never run anything like that.
"This is completely untrue," a team spokesman told AUTOSPORT in reference to Marko's comments.
When asked for a response to Red Bull's suggestions that it broke the rules, the Ferrari spokesman added: "Did they really accuse us of cheating? Are you sure? Anyway, we have all the confidence in the FIA's role to make sure all the regulations are fully respected."