Red Bull boss Christian Horner predicts 'full-on' title battle
| | |
| --- | --- |
| By Jonathan Noble | Monday, July 30th 2012, 14:56 GMT |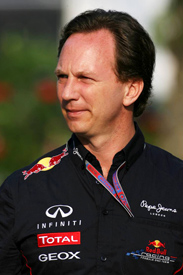 Red Bull is predicting a 'full-on' battle for the world championship, with McLaren and Lotus having been in such good form in the Hungarian Grand Prix.
Lewis Hamilton's victory and the strong form of both Kimi Raikkonen and Romain Grosjean at the Hungaroring has shown that the title fight is far from distilling down in to a straight two-way fight between Ferrari and Red Bull.
And although it is Red Bull that holds a comfortable advantage in the constructors' championship - 53 points ahead of McLaren - both its drivers are more than 40 adrift of Fernando Alonso, with Hamilton and Raikkonen breathing down their neck.
Team principal Christian Horner said: "We go into the summer break 53 points in the lead in the constructors' championship, and our drivers are second and third in the drivers' championship.
"There are 225 points still available, with nine races to go, and it is going to be full-on.
"So we will use this week before the [enforced summer] shut down to good effect. Then, it is a good opportunity for everybody in the company to recharge their batteries before a manic three months."
Red Bull only showed flashes of strong pace over the Hungarian GP weekend, as it failed to rediscover the form that had helped it become so competitive in recent races.
Horner sees no reason for panic though, and believes circuit characteristics contributed to what happened.
"I think the circuit is quite unique," he said, suggesting Vettel's form was hindered badly by getting so stuck behind Jenson Button for much of the afternoon.
"The encouraging thing is that we had good race pace, but Sebastian spent 90 per cent of the race looking at the back of someone's gearbox. Once he got in free air he was very quick.
"We struggled on the hard tyre. But it is difficult to understand why, so obviously there is a bit of data that we need to look at. It is a specific type of circuit and McLaren looked very strong 12 months ago here. Hopefully we have learned an awful lot this weekend, and hopefully we can apply that to races coming up – none of which are similar to this one."