Sebastian Vettel insists FIA engine-mapping ruling is not affecting his Red Bull's performance in Hungary
| | |
| --- | --- |
| By Jonathan Noble and Pablo Elizalde | Friday, July 27th 2012, 13:54 GMT |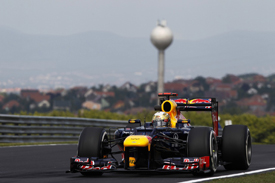 Sebastian Vettel says the new engine-mapping ruling is not making any difference to his Red Bull following practice for the Hungarian Grand Prix.
Red Bull was forced to alter the engine maps of its Renault engines following a rule clarification from the FIA after Hockenheim.
Vettel, however, said he had not noticed any performance changes after finishing eighth quickest in second practice in Hungary.
"No," he said when asked if he felt anything different. "There is a lot of talk but if you would know what is going on in the background then you would not be too interested in all the talking and stuff that has been printed in the last few days.
"Fortunately tomorrow there is a new newspaper, and after tomorrow again, and specially on Monday, so we focus on the race here and then try to make some good news for Monday's newspaper."
But the German admitted that he would revert to the Hockenheim mapping if he was given the choice.
"It is much less than what people expect. Surely if we would have the choice then we would go back to what we had in Hockenheim but it is difficult for us to measure, like I said yesterday."
Friday's second practice was hit by rain, and Vettel conceded that made it hard to judge the performance of the tyres this weekend.
"It is difficult to judge because we didn't get a crack on the soft tyres, therefore it's difficult to compare in terms of competitiveness. So it was a normal Friday.
"I think there is still a lot of room for improvement for us. I think we need to do a little bit better for the rest of the weekend and we'll see where we are. Unfortunately the weather caught us out like everyone in the end but we'll see what we get tomorrow."