Analysis: The FIA's Red Bull engine investigation at the German Grand Prix
| | |
| --- | --- |
| By Edd Straw | Sunday, July 22nd 2012, 10:22 GMT |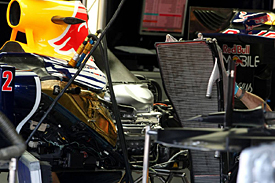 It's too early to say what the consequences will be for Red Bull if the German Grand Prix stewards agree with FIA technical delegate Joe Bauer's conclusions that Red Bull is in breach of Article 5.5.3 of the F1 technical regulations.
But the allegations are serious.
The regulation in question, which is new to the F1 technical regulations this year, states that: "The maximum accelerator pedal travel position must correspond to an engine torque demand equal to or greater than the maximum engine torque at the measured engine speed. The minimum pedal travel position must correspond to an engine torque demand equal to or lower than 0Nm."
In simple terms, this regulation dictates that there must be a linear relationship between the throttle pedal position and the torque demand on the engine.
Bauer's statement, released by the FIA, drew two conclusions, the first is that "the maximum torque output of both engines is significantly less in the mid rpm range than previously seen for these engines at other Events.
"In my opinion this it is therefore in breach of Article 5.5.3 of the 2012 Formula One Technical Regulations as the engines are able to deliver more torque at a given engine speed in the mid rpm range."
This suggests that the maximum torque demand seen in the middle of the rev range is lower than the FIA knows the engine to be capable of from previous races. This would mean that the relationship between throttle pedal position and torque demand is therefore not linear, creating a traction control-style effect.
The second conclusion was that "this new torque map will artificially alter the aerodynamic characteristics of both cars". This alludes to off-throttle exhaust blowing, a system which the 2012 regulations were designed to outlaw.
Should the FIA race stewards, which includes former grand prix driver Derek Warwick, concur with Bauer, then it is inevitable that action will be taken.
If they do not, then the car will be deemed legal and not in contravention of Article 5.5.3.
Among the most likely initial outcomes would be the exclusion of Red Bull drivers Sebastian Vettel and Mark Webber from qualifying, or even from the entire weekend. This would likely trigger an appeal, meaning that it's possible that they could start the race, with the FIA hearing the appeal at a later date and applying any punishment retrospectively.
Further sanctions cannot be ruled out if Red Bull is found guilty. This could even stretch to race bans, similar to the two-race exclusion of the BAR team in 2005 applied after it was found to be using fuel as ballast. At this stage, however, there is no suggestion from the FIA that this will happen.
Whatever happens, it's likely that the debates about the legality of the Red Bull-Renault RB8 will carry on beyond today.