McLaren's Whitmarsh confident that a cost-cutting agreement is close for Formula 1's teams
| | |
| --- | --- |
| By Edd Straw | Sunday, July 22nd 2012, 09:19 GMT |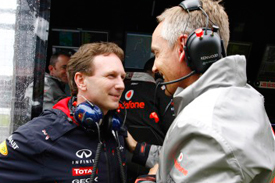 McLaren team principal Martin Whitmarsh is confident that the FIA and Formula 1 teams can come to a final agreement on cost-cutting soon.
Teams had originally been given a deadline of the end of last month to finalise such measures, but this deadline was extended after no agreement was reached in time.
The new deadline allowed the FIA World Motorsport Council to accept changes to the sporting and technical regulations, which would include measures for the FIA to police a resource restriction agreement up until Tuedsay (July 24).
A meeting between FIA president Jean Todt and the teams was previous planned to take place on Monday. This will not happen, with Todt likely to meet with leading teams at Hockenheim today to discuss the situation.
Key to the success of the agreement will be getting Red Bull to commit.
"The teams have an RRA agreement, we signed it in Singapore in 2010 and all of the teams are working under it," said Whitmarsh when asked about the chances of an agreement in time for Tuesday's deadline by AUTOSPORT.
"What we need to do to enhance confidence is to have an independent review process and that's what we've asked the FIA to do. I think they are close to achieving that and that would only strengthen it.
"It's vitally important for the sport that we can arrest the escalation of costs and that we can get everyone the confidence that they are on a level playing field. The FIA recognises the value of being involved in that process."
AUTOSPORT understands that the FIA is keen to finalise a fully-integrated package of cost-cutting measures, which will include an RRA covering the engine as well as team operations.
It's possible that the final form of the agreement could address cost-cutting in several distinct areas, with a chassis RRA alongside an engine RRA and restrictions on areas such as windtunnel and CFD work.
Mercedes team principal Ross Brawn shares Whitmarsh's confidence that a deal can be agreed.
However, he was equivocal about the timing of implementation. In order for the measures to be integrated into the 2013 technical and sporting regulations, it's possible that cost control measures could be referred to, with appendices to be added later covering the detail.
"There is some very good work being done, some excellent work on the chassis RRA that is very close to the broadly agreed position," said Brawn in response to AUTOSPORT's question about the impending deadline.
"The FIA wants the engine RRA to be settled as well and bring the whole thing in as a complete package with engine and chassis.
"So the engine discussions are ongoing in a very positive and constructive way. There is still some time needed to finalise the agreements and positions but it seems to be progressing in a constructive way.
"As for timing of introduction, I can't comment."
Despite the confidence of Whitmarsh and Brawn, Red Bull team principal Christian Horner remains sceptical about the measures.
While supporting the idea of cost-saving, he is concerned that it will be difficult to police the activities of those teams whose activities expand beyond race car development and operations.
"We would agree to a lot of cost-cutting measures that are physical and practical, which includes the windtunnel, which includes restrictions on people at the circuit etc," Horner told AUTOSPORT.
"But the way that the discussions have taken place so far, you have got different corporate entities and you have to have consistency of treatment within their different structures.
"That's very difficult to achieve and what we don't want to find is that we are in any way discriminated against because we are not part of an automotive group.
"We support the principle of cost-saving, but not the RRA as it's currently drafted. Trying to police F1 by accountancy is wrong. You've got to deal with the cost-drivers."