Formula 1 teams given more time to finalise cost cutting rule proposals
| | |
| --- | --- |
| By Jonathan Noble | Saturday, June 30th 2012, 10:42 GMT |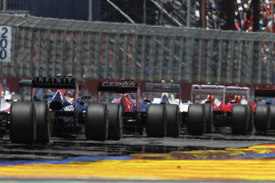 Formula 1 teams are set to be given another three weeks by the FIA to formulate cost cutting measures for 2013, AUTOSPORT can reveal, despite no agreement between teams on new rules having been reached by Saturday's deadline.
Although that FIA had hoped to implement amendments to the technical regulations for a fax vote by its World Motor Sport Council before the June 30 deadline to bring costs down, AUTOSPORT understands that no consensus could be reached on any proposals.
This means the F1 technical regulations for 2013 are now almost certain to remain unchanged because any amendments will now need unanimous support from the teams. That is unlikely to be achieved because of disagreements between Red Bull's two F1 teams Red Bull Racing and Scuderia Toro Rosso and their rivals over issues like the scope of a Resource Restriction Agreement.
However, while meetings between the FIA and finance directors of the teams are continuing to try and make some progress, sources have revealed that the governing body is prepared to leave the door open on alternative proposals to be accepted at a later date.
It is understood that the teams will be told that if there is majority approval for rules to mandate the FIA to police a Resource Restriction Agreement, as well as sporting regulation changes that will reduce costs, then these will now be accepted up until July 24 for approval by the WMSC.
This gives the teams a little over three weeks to try to agree on a path forward, which comes at a time of growing concern about the expense of competing in F1 allied to the costs of major regulation changes for 2014.
The implementation of any such changes into the 2013 sporting regulations could theoretically be delayed until September 30, which is the closing deadline for entries to next season's F1 world championship.
Lotus boss Eric Boullier told AUTOSPORT earlier this week that he felt it more important that the right changes were made for F1, rather than the sport be rushed into hitting the June 30 deadline.
"It is good that everybody in the paddock understands that we need to be thinking carefully about the future of F1," he said. "But we definitely need to take the right decision, and we definitely do not need to rush into a decision that we might regret.
"We made some decisions already in the past which cost us money now; and may cost us more money in the future. So we need to make sure that we go the right way and don't rush."
Click here for a full analysis of Formula 1 teams' issues with reaching a consensus in AUTOSPORT Plus