Red Bull unsure of advantage in Germay despite strong pace in last two races
| | |
| --- | --- |
| By Edd Straw | Friday, July 20th 2012, 09:17 GMT |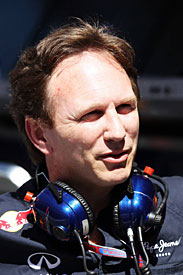 Red Bull team principal Christian Horner cannot be certain that his team will set the pace in this weekend's German Grand Prix despite encouraging performances in the last two races.
The Red Bull RB8 won the last race at Silverstone and would have won at Valencia but for Sebastian Vettel's car suffering an alternator failure, but Horner believes that the unpredictable nature of the season means that his team cannot afford to be too confident.
"We were the car to beat at Valencia and we won the British Grand Prix, even though it was a lot closer, but it is difficult to predict form and we don't know how good we are," said Horner.
"We hope to be competitive here but maybe it will be one of our rivals who will be a step ahead this weekend.
"It is encouraging that two different circuits and temperatures we were quick at two very different venues so that we draw a lot of encouragement out of."
Although Red Bull is cautious, drivers' championship leader Fernando Alonso believes that Ferrari needs to take a big step to close the gap.
He cited the reigning constructors' champion team's pace from Bahrain onwards as evidence that the RB8 is currently the strongest car.
"Red Bull have been a little bit quicker than everybody else, not for just the last two or three grands prix but since Bahrain," said Alonso. "They lost pole position in Barcelona and at Silverstone but the rest were all Red Bull. So in the last six grands prix, they have had position in four.
"Definitely, they are a little bit ahead in terms of performance so we need to catch up."
Horner expects Alonso to remain in contention for the title and does not believe it likely that one team will dominate in the second half of the season, even though he anticipates the traditional top teams and drivers will be the ones fighting for the title.
So far, Red Bull has won three races, the most that any one outfit has achieved.
"For the teams, it has been very tough but for the fans it has been great this year with many winners," he said. "But the guys at the front of the championship have been there for a number of years and I think they will be the contenders in the second half of the year.
"To have pole position at every race bar one and win 12 out of 19 races [which Red Bull achieved in 2011] doesn't happen every year. This year, there are a lot of contenders."