Webber says he does not intend his latest contract with Red Bull to mark his final year in F1
| | |
| --- | --- |
| By Pablo Elizalde | Wednesday, July 11th 2012, 13:45 GMT |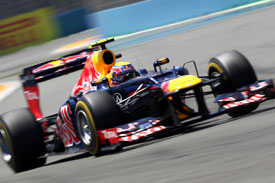 Mark Webber says he has no plans to retire from Formula 1 at the end of his contract with Red Bull Racing, having just extended his deal for another year.
The Australian, who turns 36 in late August, secured a new one-year deal with Red Bull on Tuesday and will continue to drive for the squad he joined in 2007 at least until the end of 2013.
Webber, however, insists that despite his age, he is not seeing next year as his last season in F1 and says he wants to continue racing after that.
"Because I'm 36 this summer, people are always asking me when I'm going to retire," Webber wrote in his column for the BBC. "But I'm not thinking about that at all. The contract is just for one year, but I'm looking to stay in F1 for longer than that.
"You know you're closer to the end than the beginning, so you want to make the most of the situation you're in.
"You try to do that bit more, you perform better because you're that bit wiser and you get better results, so you end up staying longer anyway.
"It's an immensely challenging job trying to get the best out of a Formula 1 car and I'm competing with the best drivers in the world."
Webber, the winner of the British Grand Prix last weekend, admitted he was in talks with Ferrari over a possible deal, but said there were too many pros to not continue at Red Bull.
He also said that having the full support from the team to fight for this year's title was a major factor in deciding to stay on.
"I'm sure everyone understands the lure of racing for Ferrari, but in the end there were just too many pros to staying at Red Bull Racing - it was as simple as that," he added.
"I've been there since 2007, just two years after the team was formed, and we have built a fantastic team.
"We've won the last two drivers' and Constructors' Championships and we're right in the fight again this year. It's very hard to turn your back on that sort of performance.
"The fact that I am trying to win the championship this year was also a consideration - it would have been that bit harder to keep the momentum going if I was moving to a rival team. That was a factor, but it was certainly not the biggest one."