Ferrari: Title fight to remain wide open despite close battle with Red Bull up in front
| | |
| --- | --- |
| By Jonathan Noble | Monday, July 9th 2012, 09:35 GMT |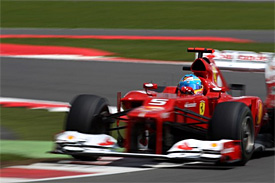 Ferrari expects the Formula 1 world championship battle to remain wide open, despite itself and Red Bull beginning to pull clear of their rivals.
Fernando Alonso came close to becoming the first back-to-back winner of 2012 at the British Grand Prix, before being denied victory by a late charge from Mark Webber.
But on a weekend where both Ferrari and Red Bull delivered their biggest points haul of the season from a single race, it appears that unless McLaren can produce a big step forward in performance then the title battle could become a straight head-to-head fight.
However, Ferrari team principal Stefano Domenicali is not convinced about that being the situation, and he believes both McLaren and Lotus can still mount a challenge
Asked for his feelings on the title fight, Domenicali said: "Very tough. It is great to see Fernando still leading the championship, and it was good from the sporting point of view to see Lewis [Hamilton] losing some points and Sebastian [Vettel] too.
"If we look at the situation of Silverstone, with the first four cars, it means we have done a step in the right direction from the performance point of view. But it is a very open championship.
"I don't believe honestly that the others will stay behind. I am sure McLaren will fight to come back, and the others are very close.
"I was impressed by the pace of Lotus. If you look at Grosjean, if you look at the first lap he pitted and then he finished sixth. So the field is very tight."
Domenicali reiterated that even with the strong results Ferrari has managed so far this season, he will not be happy until he is convinced that the team has produced the fastest car.
"With such a tight competition if you are behind in one area, then it will be a problematic end to the season," he added. "I'm happy to see that the people are concentrated on the job, do not care what [distraction] is all around, and stay concentrated.
"I'm not happy, and [will not be] up to the moment when really our car will be the strongest. At the moment we are not there, but we are getting very close."