British Grand Prix chief hopeful of less drama on Sunday
| | |
| --- | --- |
| By Jonathan Noble | Saturday, July 7th 2012, 18:22 GMT |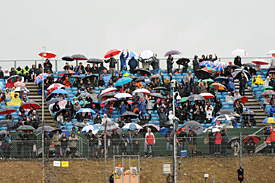 Silverstone chiefs say they can now look forward to race day with some optimism that it can pass without too much drama, after its bold decision to limit crowds on Saturday to save the car parks.
In the wake of a dramatic British Grand Prix, where problems with campsites and grass car parks led to a meltdown of the traffic system on Friday, organisers elected to deter fans holding car park passes from attending on qualifying day.
That move appeared to have paid off, with Silverstone's managing director Richard Phillips claiming that the action has given the track the room it needed to make proper preparations for the expected 125,000 strong crowd on Sunday.
"We had to make a difficult decision yesterday which was really upsetting but today has been a much better day," explained Phillips.
"There were a remarkable number of people who got in here today somehow, I am not sure how, but they did, and hopefully they had a good time.
"We are very grateful for those who actually did stay at home, and hopefully we did not turn too many people away. A fair few people did try and get in. We are where we are, but at least it has given us a breathing space now and we are looking forward to tomorrow."
Although Silverstone did not have any figures on how many fans elected not to attend on Saturday, Phillips said the situation had allowed work to be completed on preparing car parks for race day crowds.
"We are mainly working on things like the entrances, to make sure you can get in, and getting more support vehicles in place.
"The grass car parks are not in a great state, there is no denying that, and it will be challenging tomorrow. But we have been able to put in some other provisions - some of which we can't talk about.
"It is going to be challenging but the fans seem to be very supportive. There is a bit of a Dunkirk Spirit about this one and we are going to have a good go at it."
Phillips also welcomed comments made by Formula 1 supremo Bernie Ecclestone, who said that Silverstone should not be blamed for finding itself battling the weather.
"Things have changed haven't they?" said Phillips. "He has been very good for the last couple of years actually, since we built the Wing, and made an effort. He understands like most of the people out there that it has been an extraordinarily wet time, and it is very difficult to cope. We had to take some measures which were unfortunate, but we've coped so far."
Phillips did concede however that the traffic situation was at a critical point on Friday - with another day of that chaos potentially leading to bigger problems.
"I think the experience today has been a lot better for those that came, and hopefully those that didn't come didn't have the same situation as yesterday," he said. "It has given us a bit of a breather to get our thoughts together and collect ourselves.
"Another day like yesterday would have killed the staff if nothing else. Could you have put up with that? And then they would have probably deserted us. Sometimes these things get on a bit of a knife edge but we are back on a level keel now. It will be challenging, I don't want to say it isn't."