Silverstone insists British Grand Prix will go ahead in spite of weather chaos
| | |
| --- | --- |
| By Jonathan Noble and Simon Strang | Friday, July 6th 2012, 19:50 GMT |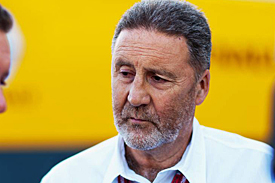 Silverstone's organisers insist there are no question marks about the British Grand Prix going ahead as planned on Sunday, despite the major problems caused by the weather.
In light of the breakdown of the traffic system on Friday, caused by car parks and campsites getting washed out, British GP chiefs have already advised fans with public parking to stay away from qualifying day.
With further poor weather predicted over the weekend, and Jenson Button suggesting that the race could not go ahead if the rain was as bad on Sunday as it was on the opening day of practice, there is the possibility of the situation not improving by then.
But Silverstone's managing director Richard Phillips believed the circuit itself was holding up well to the challenges of the weather, and hoped that emergency measures being put in place on Saturday would help ease matters for the big day.
When asked if there was any threat to the circuit or the race going ahead, Phillips said: "No. It was a bit slippery out there today, maybe because of all that rain but there is pretty good drainage on the circuit and that goes into a different sort of system anyway. There is a big lake out there that is connected all around the circuit."
Phillips said that he had never known a situation like the one Silverstone has faced this year - even though the scenes were similar to what the venue experienced in 2000.
"I have been 30 years doing this," he explained. "I have had some interesting situations with fans being chased around in Italy by police, and fans rioting - but I have never had a weather situation quite like this one."
He added: "I wasn't here in 2000. I would say thank God, so this is my 2000 I guess... I am not sure they did enough planning in 2000. We did a lot of planning for this. And 40mm of rain in 12 hours is not easy to cope with."
Phillips suggested that the troubles Silverstone has faced in dealing with the traffic was proof of why the track had been looking for backers to help fund an improvement in facilities.
"This is why we have been looking for an investor for a long time to see if we can, you know... we've done what we can over the last 10 years to build the event up and I was very proud of it and I'm still very proud of it. But I am a bit sick today."
A clearly emotional Phillips also expressed deep regret to fans for what had happened.
"I unreservedly apologise to people," he said on Friday night. "I feel very responsible for it. This is something I have been very proud of over the years and I feel I could almost cry now."