De la Rosa says Formula 1 must analyse Maria de Villota's crash to learn lessons
| | |
| --- | --- |
| By Edd Straw | Thursday, July 5th 2012, 16:22 GMT |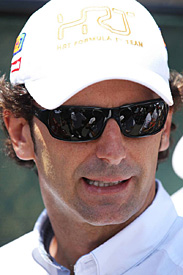 Formula 1 must learn from the straightline testing crash that cost Marussia test driver Maria de Villota her right eye and left her in a critical condition, according to GPDA chairman Pedro de la Rosa.
Aerodynamic testing is only permitted at FIA-approved venues, so safety standards are already high, but de la Rosa is adamant that lessons can be learned from what happened.
"We will put the facts on the table to see if there is anything we need to change to improve," said de la Rosa when asked whether the GPDA will be looking into the crash.
"When an accident happens, it means that something didn't work properly. We need to make sure between the FIA, the teams and the GPDA that we make changes for the future because it's not good enough."
De la Rosa stressed that he has not yet received any information on the crash, so is unwilling to draw any conclusions.
But he said the need for the sport to ensure that there is no repeat of such an accident.
"The first thing we need to do is understand what happened, what safety measures were taken and how the airfield was prepared for Formula 1 testing," said de la Rosa.
"We know the sole objective of making sure nothing like that happens again. But first we need to know the facts and we have no information whatsoever at the moment."