UK unlikely to regain WTCC calendar spot in 2013
| | |
| --- | --- |
| By Peter Mills | Wednesday, July 4th 2012, 10:07 GMT |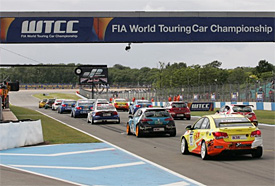 World Touring Car Championship promoter Marcello Lotti has admitted that the United Kingdom is unlikely to regain a place on next season's WTCC calendar, as the series moves closer to securing new events outside of Europe.
Future rounds in Russia and India have been rumoured since the beginning of the season.
Lotti confirmed his focus is set on further long-haul events for 2013 rather than a return to UK, which was absent from this year's calendar for the first time since the WTCC's 2005 revival.
"For the UK it will be very difficult for next season. No, I don't think [it will happen]," said Lotti.
"We are speaking with India, but we are now more sure than ever that we want to include Russia. We think we can obtain more easily for 2013 the circuit homologation for Russia, so it is only a question of starting to negotiate with them. But we need Russia and we will include Russia on the calendar in the next seasons."
Lotti added: "The Indian round is at the moment in negotiation. We need to see what is going on, but we are interested to have India. It is among our targets, not just for 2014 but 2013. I think in one month we will know."
This year's WTCC calendar has proved relatively stable, the only change from the pre-season provisional schedule being a move to the Slovakia Ring, a debut venue, in place of a provisional Argentinean date.
Despite the uncertainty over this year's proposed race, Lotti remains open to a second South American event in Argentina alongside the series' current Brazilian round.
"[Regarding] our future view for non-European events, for sure in our plan is India and why not also Argentina?" he said.