McLaren says tyre handling was the reason the team could not fight for Valencia win
| | |
| --- | --- |
| By Jonathan Noble | Monday, June 25th 2012, 10:32 GMT |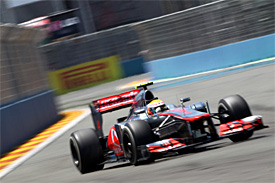 McLaren thinks its failure to fight for victory in the European Grand Prix was purely down to its handling of tyres over the Valencia weekend.
Before Hamilton's late exit from the race put paid to his chances of scoring any points, the Briton had been unable to do anything to stop early leader Sebastian Vettel, or eventual race winner Fernando Alonso, extending their leads.
That performance has left the team mindful about just how much it needs to keep bringing performance to its car - especially in light of Red Bull Racing's aggressive Valencia update – but team principal Martin Whitmarsh thinks that the ultimate speed of its car did not explain what happened in the race.
"It was a bad day in the office and I think we really struggled with the tyres," he explained. "The inherent pace was where you were on your tyres.
"Lewis struggled on the first set and was better on the prime in truth, but ultimately it went away – and that could have happened to Sebastian as well, I don't know.
"When your competitors are showing that sort of pace it is always a concern, but I think we know well this year that what determines the underlying pace of the cars is quite challenging and quite difficult.
"We have to keep pushing. It is a tough old motor racing season this one and this race wasn't helpful, but we will keep pushing and see what we need to do."
McLaren is heading to the next race on the calendar, the British GP, well aware that its car should be better suited to the high-speed swoops of Silverstone, and Whitmarsh sees no reason why it cannot respond in the right manner.
"This championship is just wide open," he said. "Mark Webber is up there as well now, and I don't think anyone was going to predict that at the beginning of the weekend.
"You have to score the points and keep at it. So we have to develop the car, master the tyres, understand them, and keep them in good condition. That is very difficult as we saw here.
"It was a difficult day, and frustrating in many ways, but there is a long old championship ahead and there is no reason why we cannot turn that fortune at Silverstone. That is what we have to do."