Lotus says fourth place in the Constructors' Championship is still the target in 2012
| | |
| --- | --- |
| By Dieter Rencken and Jonathan Noble | Monday, June 18th 2012, 10:28 GMT |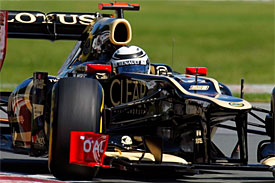 Lotus owner Gerard Lopez reckons that his team has a proper chance of beating either Ferrari or Mercedes to fourth place in the Constructors' Championship this year.
The Enstone-based outfit is currently third overall in the standings - 11 points clear of Ferrari - but is well aware of how competitive the fight for positions is going to be.
However, Lopez says his outfit's hopes are boosted by the fact that it has both drivers scoring decent points this year – something that Ferrari and Mercedes are not experiencing so far.
"Finishing top four is still the aim – and I think the target is realistic," Lopez told AUTOSPORT. "If we can get more we will take more, but the top four is the objective.
"And I think right now, we are one of the very good teams because of two drivers being able to score points."
Lopez is delighted with the way Lotus' season is panning out, and reckons only circumstance has prevented it taking a victory so far.
"Things have to come together differently," he said. "In Canada, Kimi's differential did not work so that is half a second, and he should have been second row. Romain made a mistake on his new set of tyres and that did not help.
"If you start 7th and 11th, you can take the podium. You could win the race but it is difficult. For us to win a race, the whole package has to work – and there are many people trying to do the same thing
"But as long as both drivers keep scoring points then I am happy with that."