Michael Krumm believes DeltaWing can race LMP2s in Le Mans 24 Hours
| | |
| --- | --- |
| By Stuart Codling | Wednesday, June 13th 2012, 15:29 GMT |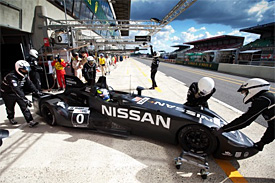 Michael Krumm believes the DeltaWing can race 'virtually' with the LMP2 runners at Le Mans, even though the innovative Nissan-powered prototype is officially running outside the competition.
At the official test earlier this month, Krumm, the 2011 FIA GT1 world champion, completed the 10 laps necessary to qualify for Le Mans. Team-mate Satoshi Motoyama posted the car's quickest time of 3m47.980s, within reach of the 3m45s target set by the ACO.
"If we had all the bits and pieces we would be faster than the LMP2s, which would be kind of boring," he told AUTOSPORT. "For now they're quicker, but they have gentleman drivers and all three of us [in the DeltaWing] are professional. We're all on it.
"We're out of competition but we're on the screen. And you want to move up the screen - that's a good motivation. We can follow them closely and if they go into the pit, we can move ahead. We can race them without blocking them. It's a long enough race for us to do that.
"We won't tangle in any of their battles or slow them down. If they're coming up on us we'll move out of the way. We won't hold them up - it's nothing to do with protocol, it's etiquette."
Designer Ben Bowlby's original vision included a torque-vectoring rear differential, but that had to be shelved as the team directed its resources to curing the gearbox synchronisation issues that blighted the DeltaWing's shakedown and early tests.
"I want to go faster than we did last time [at the test day] and we can," said Krumm. "There are a few parts that broke in the test because we had run out of time, but it would be nice to show people how quick the car can go.
"We won't be able to go as fast as we hoped – there was the potential to break the 40s but we probably won't be able to do that now without all the bits and pieces.
"One of the targets is to go into the low 3m42s or even below that. Given a clear run it is possible – we'll see."