Red Bull shrugs off recent enforced changes to its RB8 after FIA directives
| | |
| --- | --- |
| By Jonathan Noble | Sunday, June 10th 2012, 08:18 GMT |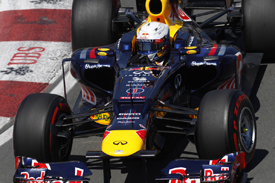 Red Bull Racing insists it is 'losing no sleep' over recent rule clarifications that have forced it to make changes to its car - as its focus remains firmly on capitalising on Sebastian Vettel's pole position in Canada in Sunday's race.
The reigning champion team has been forced to abandon a hole concept in its rear floor, as well as its wheel hub design, ahead of the Canadian Grand Prix following directives laid down by the FIA.
But with those rulings appearing to have done little to slow the car down, team principal Christian Horner says the squad is not worried by rival outfits highlighting issues on its RB8.
"I think it is all part of this game and of the sport," Horner told AUTOSPORT. "Everybody is entitled to an opinion but we don't lose any sleep over it whatsoever. Technical clarifications go on up and down the pitlane; they just perhaps don't get talked about as much as what ours do."
Horner sees nothing out of the ordinary in the fact that two rulings have gone against Red Bull, and says that it is only right his outfit's technical chiefs take their designs to the limit of the regulations.
"The nature of F1 is to push the boundaries and be innovative, and that is what we will continue to strive to do," he said. "Charlie [Whiting, FIA head of technical department] does a good job in taking balanced views and we have got absolutely no complaints with the way the FIA has dealt with any issues, certainly surrounding our car this year.
"I think it is the nature of F1 that teams will look to extract as much out of the regulations that are written in a way that require interpretation, but that is the same up and down the pitlane. Probably Caterham has had to address things on their car at some point but, for whatever reason, they don't seem to grab as much interest as Red Bull.
"Detail is crucial this year. You have to extract performance out of every little bit you have got, and this season with the margins being so tight it will all come down to detail ultimately."
With Vettel having held a three tenths of a second advantage over Lewis Hamilton in qualifying, Horner is delighted with the way his outfit is delivering at the moment.
"We can see that six tenths today cover the top 10," he said. "So it is still enormously close and the margins are very fine.
"Inevitably at some point a pattern will start to emerge and different cars at different circuits will be competitive, but I feel the way the Red Bull technical team is working, they are doing a great job to try and understand the new regulations. The key word this year appears to be tyres, and we are starting to get a better handle on what these tyres like."