Webber angered by suggestions he won Monaco with an illegal car
| | |
| --- | --- |
| By Pablo Elizalde and Jonathan Noble | Thursday, June 7th 2012, 16:26 GMT |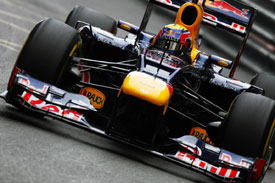 Mark Webber says he is 'pissed off' at suggestions that he won the Monaco Grand Prix with an illegal car following the FIA's decision to force Red Bull to change its floor design.
The holes in the floor of the RB8 stirred controversy at the Monaco Grand Prix, which Webber won from pole position nearly two weeks ago.
Although Webber's victory was not disputed by Red Bull's rivals, the FIA decided ahead of the Canadian Grand Prix that the team would have to modify its floor design for the Montreal race.
Webber downplayed the effect the rule change will have on the performance of the car, but the Australian admitted he was angry at suggestions that he won with an illegal car.
The Red Bull driver made it clear that the RB8 had passed all technical verifications before the FIA decision.
The Australian said, in fact, that Red Bull was planning to race without the controversial holes in Valencia even before the FIA ruling.
"I think that I would not know if the floor is changed or unchanged," Webber told a news conference in Montreal. "From the driving side we are very optimistic that the change will not make much difference at all.
"You won't believe us but we had some changes for Valencia anyway which included no hole irrespective of the rule changes.
"And in relation to wining races with an illegal car - I am happy to be called lots of things and have criticism about my driving, but I will not take talk about the car being illegal. It pisses me off, to be honest.
"The car has passed every single technical regulation after the race. All the teams against it did not make any protest after Monaco, the car passed the test after Bahrain and passed the test after Monaco and there is a clarification, and the rule is different. We had a car that was legal for the start of the season. The rule has been changed and we will race on."
Webber, who became the sixth winner in as many races this season, believes the Canadian race will be as tight as the previous events, something that is making predictions very hard.
"I don't think there are any top teams at the moment," he said. "It is very tight between everyone's performances. It looks sensitive to venue, temperatures and drivers even.
"It is quite open which is why we have seen different results, different podiums and different winners, and teams that were not good with regulations last year – like Sauber, Williams – people who were not good with [the] blown floor, it made them strong compared to the people who were good with the blown floor."