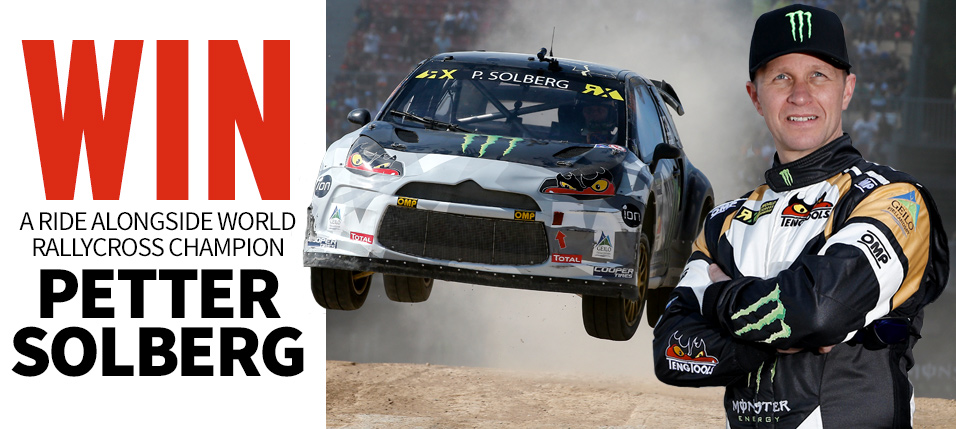 Petter Solberg is one of motorsport's most successful drivers – he's the 2003 World Rally champion and a two-time World Rallycross champion. We're offering one lucky reader the chance of a lifetime to ride alongside Solberg in his 400bhp Citroen Xsara WRC at next month's Autosport International. The winner will spend a Live Action show alongside Solberg, watching first-hand how the Norwegian star drifts, doughnuts and jumps his flame-spitting Citroen through the arena. They'll have the best seat in the house.
Solberg drove at ASI for the first time in January 2015 and was an instant hit with thousands of fans. His flamboyant driving – a trademark style which has marked him out as a hero for motorsport enthusiasts around the world – is more impressive than ever within the confines of Live Action.
In short, Autosport International fell in love with the man they call 'Hollywood'. And the feeling is mutual.
"This is a fantastic chance for somebody," says Solberg. "It's not often that a true fan has the opportunity to come in the car with me. I promise you, it will be an unbelievable moment and hopefully one you won't forget for a long time!
"I love Autosport International, it's the best show like this in the world – it is so professional and everything is done so well. For me, I always want to come back and put a smile on people's faces."
The lucky winner will have the biggest smile of them all as they slide into the seat alongside Solberg as he fires the Xsara WRC up and sets about another flat-out routine.

Buy Autosport International 2016 tickets
To enter, simply answer the following question: