Dixon and Kanaan say Sato was too bold in his attempt to pass Franchitti on the last lap of the Indianapolis 500
| | |
| --- | --- |
| | Tuesday, May 29th 2012, 15:10 GMT |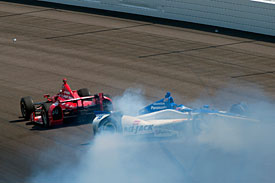 Former IndyCar champions Scott Dixon and Tony Kanaan believe Takuma Sato was too bold in his attempt to pass Dario Franchitti for the Indianapolis 500 lead on the final lap of the race and will be 'haunted' by the error.
Rahal Letterman Lanigan driver Sato dived to the inside of Franchitti's Ganassi Dallara-Honda going into Turn 1 as they began lap 200 on Sunday, but the pair made contact and Sato spun into the wall.
After Franchitti went on to secure his third win in IndyCar's most famous event, Sato argued that the Scot had not given him sufficient room.
But Dixon and Kanaan - who were right behind the incident on their way to second and third places - think Sato only had himself to blame.
Dixon reckoned that Sato should have positioned himself better or waited until later in the lap.
"It was brave. Dario gave him room. He was so close to pulling that off," said Dixon, team-mate to Franchitti at Ganassi.
"I think if he didn't pinch it as much and maybe moved up on Dario a little bit more, it would have been OK. But Dario did a great job to save it.
"Sato, I don't know why he didn't wait a little longer. I really don't."
KV driver Kanaan suggested Sato had been naive.
"You do not play Dario like that. He should know better than that," he said. "I think it was a young driver mistake. That's going to haunt him a little bit.
"But, you know, the last lap of the race, it is what it is. He tried. It could have worked for him. It could have worked for Scott or for myself. But it's easy to make a comment now on what I would have done differently."