Bird, Frijns not thinking of FR3.5 title yet
| | |
| --- | --- |
| By Glenn Freeman | Monday, May 28th 2012, 14:59 GMT |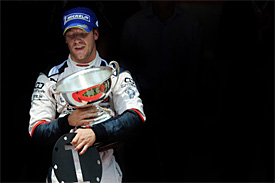 Formula Renault 3.5 championship leaders Sam Bird and Robin Frijns insist that they are not thinking about the championship battle this early in the season.
The Briton and the Dutchman have emerged from the first two race weekends of the campaign at the top of the title race, with Bird moving ahead of Frijns thanks to his victory in Monaco on Sunday.
"The championship doesn't matter at the moment, what matters is winning at Monaco," Bird said after his victory. "There's still a long way to go.
"There is no point looking at the championship when there are 14 races to go. Maybe after those 14 races we can take a look at how it stands, but until then I'm not going to focus on it."
Series rookie Frijns, who retired from the Monaco race while running fourth and now sits five points behind Bird, admitted that it is difficult to ignore the championship situation.
"Of course, I try not to about it," he said. "But if I had just finished where I started [fifth] then I would still be leading the championship [after Monaco].
"But it's not important to look too closely at the moment. What is important is that we were fast in all the races so far. We have a great car, and we know we are going to be fast everywhere so I just want to think about winning more races."