Button unimpressed with Kovalainen's defensive driving during Monaco GP
| | |
| --- | --- |
| | Sunday, May 27th 2012, 15:19 GMT |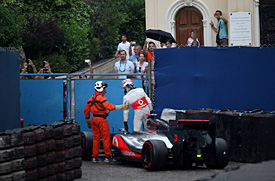 Jenson Button felt Heikki Kovalainen 'got the balance wrong' as the Caterham driver held off Button's McLaren for most of the Monaco Grand Prix.
Kovalainen got up to 13th amid the startline crash, while Button had to go wide to avoid Kamui Kobayashi's flying Sauber and found himself behind the Caterham.
Although Button ran eight laps longer before his pitstop, he still rejoined behind Kovalainen again.
As their battle became more fraught late on - and was joined by Daniel Ricciardo's Toro Rosso and Sergio Perez's Sauber - Button spun at the second part of the Swimming Pool, caught Kovalainen again, then retired after sustaining a puncture in another passing attempt.
"Heikki was so slow, but he's very good at placing his car, and if you place your car in the right place, you can't overtake," said Button.
"I think he was looking in his mirrors more than looking forward, but that's his choice and it makes my life very difficult."
Button also said Kovalainen repeatedly cut the chicane while holding him off.
"It is [frustrating] when he doesn't get a penalty for it and it just slows us all down," said the Briton.
"When I did get down the outside of him at the chicane he just kept moving across and it was like 'OK, I'm up against the wall now and we're touching wheels...'
"There has to be a balance when you're fighting for 12th place and I don't think he had it right, but there you go, that's racing."
Despite his frustration at Kovalainen, Button openly admitted that his main issue had been qualifying only 13th.
"It all comes from a bad qualifying and then being unlucky at the start," he said. "But if you're in the middle of the pack you're more prone to incidents."
Button said that as his race had been so bad, having to retire was no loss.
"At least I didn't have to do the last eight laps and feel pain for even longer, that's one way of looking at it," he said.