Fernando Alonso says third in Monaco Grand Prix means goals achieved
| | |
| --- | --- |
| By Jonathan Noble and Simon Strang | Sunday, May 27th 2012, 14:42 GMT |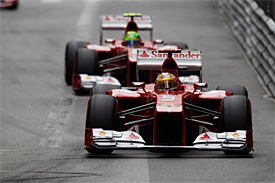 Fernando Alonso reckons third place means he achieved his target from the Monaco Grand Prix, which was to finish ahead of his closest championship rivals Sebastian Vettel and Lewis Hamilton.
The Ferrari driver is now in the sole lead of the world championship, with 76 points, ahead Vettel and Monaco winner Mark Webber, who are both on 73.
And while a second Monaco victory escaped Alonso by less than a second, the Spaniard said he was satisfied from his weekend's haul.
"Our target was to finish in front of Sebastian and Lewis - they were with us in the world championship and if you go race-by-race you concentrate on different drivers," he said afterwards. "The next one will be Mark, who is now second in the championship.
"It will be interesting this season with the see constant development of the car and the constant surprises that we are having every race. You never know which one is for pole or race win."
Alonso admitted that he was lucky to emerge unscathed from the fracas at the start which eliminated Lotus driver Romain Grosjean and mixed up the order behind, bringing Vettel, who started ninth into contention.
"I had a fantastic start, so in the first ten metres I was side by side with Romain and I was passing Lewis [Hamilton] as well who was third," he said. "They went close to each other and I put the car in the middle and I think I touched with Romain with my rear left and his right front.
"After that touch he spun, so were lucky that nothing was damaged in the car. After that spin of Romain I think the positions mixed a little bit because I saw Vettel like position five or six – so people were helped and some people gained advantage.
"Everything went smooth after the start – at that point I thought maybe the car was damaged or something – but it was fine," he added. "I felt good, I felt competitive, but obviously in Monaco it is difficult to manage the traffic.
"We overtook Hamilton at the stop with perfect time and perfect stop again, so thanks to team we are in a privileged position."