Monaco form shows Michael Schumacher should continue in Formula 1, says Mercedes team
| | |
| --- | --- |
| By Jonathan Noble | Sunday, May 27th 2012, 07:44 GMT |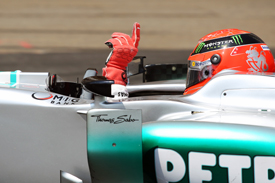 Michael Schumacher will commit himself to a contract extension in Formula 1 if he keeps producing performances like his Monaco qualifying effort, reckons his team boss Ross Brawn.
The seven-time champion delivered the fastest time in qualifying for F1's blue riband event on Saturday, but will start the Monaco Grand Prix from sixth on the grid thanks to a five-place grid penalty he earned for crashing into Bruno Senna in Spain a fortnight ago.
But despite the frustration of not being able to capitalise on his Q3 effort, Brawn thinks that Schumacher's performance was enough to leave the seven-time champion sufficiently confident about his form to want to carry on in F1 beyond the end of this season.
When asked if it was the team's wish for Schumacher to continue in 2013, Brawn said: "I think it will be everybody's wish after this performance. That is what we have always said - that Michael will always know when it is time to retire, and after producing performances like here, why should he?
"Let's now hope for a great race. It is great for Norbert [Haug], myself and the team, and everybody around Michael, and it is great for F1 as well if he can continue doing what he did here."
Mercedes-Benz motorsport boss Norbert Haug said recent frustrations for Schumacher in the races had not led to any questions within the team about his potential – despite his comeback that not delivering all that was expected.
"I think Michael handled it quite well all the time and, seriously speaking, from inside the team I never got the impression that he was frustrated or down. He knows what he can do and he thinks that: 'if the car is right I am going to deliver,'" said Haug.
"I am not sure whether he got an extra boost after his five-place penalty, but one thing is for sure, he did an amazing second sector and that is probably the most difficult part of the circuit. He delivered, he felt good in the car and he deserved it."
He added: "For Michael, it never was a problem and it is not like now he thinks he showed the world. Ross and I and the whole team always were convinced that he was a good driver and that he could do it.
"That he needed to learn after such a period of time was very clear, but he learned and he showed commitment. He has talent, he is capable and the speed is there as it has always been."