Roush Fenway drivers unconcerned by All-Star engine issues
| | |
| --- | --- |
| By Diego Mejia | Friday, May 25th 2012, 21:13 GMT |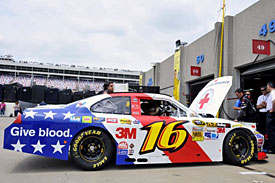 Ford drivers Carl Edwards and Greg Biffle are not worried ahead of NASCAR's longest race on Sunday at Charlotte, following the engine issues they suffered during the All-Star event at the venue last weekend.
The Roush Fenway Racing duo failed to see the chequered flag last Saturday due to fiery engine failures.
"Doug [Yates] came over first thing right before practice started and explained to me one more time what had happened and he just wanted to have my mind at ease," said Edwards ahead of this weekend's 600-miler.
"We were trying something that they've been working on for a little while and trying to get it to work and it obviously did not work, but I understand. If you're not trying those things, you don't get better. They made tonnes of power, they just didn't last very long.
"I'm not sure, but that's the first engine failure we've had with our team in a long time, maybe since Pocono last year or something. I'm happy with the engines."
Although the All-Star prize money being more than a million dollars, which Edwards himself won in 2011, there were no points awarded last weekend which made the race worth experimenting in.
The third Roush Fenway Ford of Matt Kenseth was the only one to make the finish, crossing the line in third place.
"The bottom end failed," said Cup points leader Biffle about his engine issue last weekend. "The oil pressure was low and, obviously, there were trying new parts or pieces and I kind of applaud the engine shop for the effort they put in and to take advantage of a non-points race to implement what you would obviously call experimental parts.
"They had the guts to bring a piece to the race track that was on the edge and made a lot of power and they found out that it didn't have the durability, so I think that's what the All-Star is about.
"Whether it's the driver or the engine builder or the guys putting the cars together, it's all about winning and that's what they went for, and that has no impact on our regular engines for the season."