Latvala plans win-or-bust approach on Acropolis Rally second leg
| | |
| --- | --- |
| By David Evans | Friday, May 25th 2012, 19:50 GMT |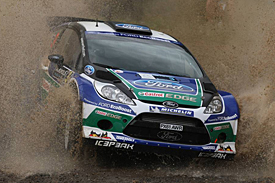 Ford driver Jari-Matti Latvala is ready to take a win-or-bust approach to Saturday's pivotal second leg of the Acropolis Rally.
Latvala made a made a heroic return to the driver's seat of his Ford Fiesta RS WRC on the Greek event, holding second place at the end of the opening day despite still recovering from a broken collarbone.
Latvala ended the opening leg just 6.5 seconds off Sebastien Loeb's lead in Loutraki, but the Finn insisted he would push harder on some of the roughest roads ever included in this classic test of World Rally Championship endurance.
"I know it's rough tomorrow," said Latvala, "but I can't go slowly. I can't start to think about securing the second position - that's not going to help our championship. We have to fight with Loeb, second will not be enough. We need the win. I know this will be very difficult and very risky, but I'm not a young boy anymore, so I have to be able to fight with him."
Latvala led the event early on and admitted he was pleased with a faultless performance - save for an overshoot on Elikonas in the morning.
"I had big excitement for today and it went well," he said. "It's amazing, though. I have been out of the car for two months and, OK, the speed was there in the car, but the confidence to control the car at that speed was difficult. It has been coming, but this really shows me why it's so important to keep on driving all of the time - it's like the first time you go back to Rally Finland, for the first day you think it's not possible to drive at this speed, but then it's normal."
Latvala admitted his left arm was sore after the opening salvos in Greece, but did not plan to take painkillers.
"It's easier to know exactly where you are without the painkillers," he said. "I will have the massage tonight, this is the plan and then see how tomorrow goes - but it's not been any big pain at all."