Former world champion Alain Prost says Formula 1 too unpredictable at the moment
| | |
| --- | --- |
| By Jonathan Noble | Friday, May 25th 2012, 16:56 GMT |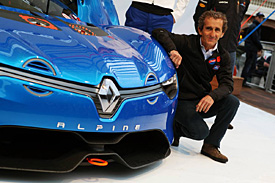 Alain Prost believes Formula 1 may be too unpredictable at the moment - but he reckons that is a better situation for the sport than it being dominated by one driver.
Making his first appearance at an F1 race this season at the Monaco Grand Prix, Prost welcomed the increased popularity that the ultra competitive nature of this season was delivering – but thought that perhaps things were too variable with five different winners from five races.
"If I talk for myself I would say yes it is maybe a little bit too unpredictable," said Prost, speaking at the launch of a new Renault Alpina concept car in Monaco.
"You know F1, and you know you would like to understand a bit more about what is happening, but F1 has changed, and the public watching F1 has changed also at the same time.
"You cannot compare to what we had 10, 20 or 30 years ago. Now the public are quite pleased to see that it is not all the time the same driver or same car. That is the worst thing for F1 today – if one car or one driver is dominating too much.
"It [the unpredictable nature at the moment] is not what I would like to see, but I can understand that the audience is going up a little bit and people are more interested in that."
He added: "But if I think about the engineers in the teams it must be a nightmare, so it may be a little bit too much. But at least we have the show, we have the indecision and people are watching more and more F1, which is good."
Prost reckons that the way form is fluctuating so much means that those drivers involved need to change their approach – and that consistency is essential.
"If you have more potential winners you have to be more consistent, but if you have one rival you have to fight against them and that is a different approach," he said. "With this championship you need to be in the points all the time. Sometimes you must win, but you need to finish and be consistent."
When asked who was his favourite was for the title, Prost said: "At the beginning of the season, before the first race, I thought it would be a championship for Jenson Button. But today I don't know.
"Let's say again Jenson because he could be the more consistent driver during the year, but I am not sure."