Formula 1 flotation may be delayed, according to Bernie Ecclestone
| | |
| --- | --- |
| By Jonathan Noble | Friday, May 25th 2012, 11:16 GMT |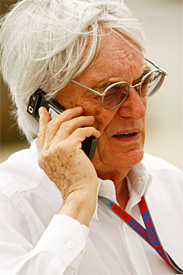 Formula 1 supremo Bernie Ecclestone thinks plans for a flotation of the sport on the Singapore stock market may have to be delayed amid continued trouble in the financial markets.
Grand Prix racing's owners CVC had hoped to push through an IPO of F1 within the next few months, and has already agreed to sell off some of its shares.
However, in the wake of the slump in the value of Facebook shares this week, Ecclestone reckons F1 may be unwise to push on with a flotation right now.
"The market doesn't look too bright after that little bit of a problem with Facebook," said Ecclestone in an interview with CNN. "So I think they are going to wait and see."
Although the flotation may be postponed, Ecclestone also said that he was close to a deal that will commit all teams - including Mercedes – to F1 until at least 2020.
"Well we've just got people now, all the current teams, to sign up until 2020 and then I hope another 10 years after that and then forever," he said. "Everybody has agreed with it."
When asked specifically about Mercedes – which has been unhappy with the terms of the deal offered to it – Ecclestone replied: "You'll have to wait to see if Mercedes have but I'm confident everything with Mercedes will be fine."
He added: "I appreciate and support Mercedes probably more than anyone in F1. But the way it was done was on results and we couldn't falsify the results because if we did other people would complain."