Aaro Vainio beats Kevin Ceccon to pole for GP3's Monaco debut
| | |
| --- | --- |
| | Friday, May 25th 2012, 06:39 GMT |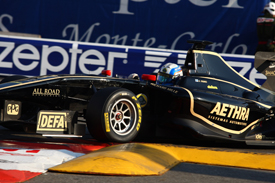 Aaro Vainio claimed his first ever GP3 Series pole position in an early Friday morning qualifying for the series' maiden Monaco race.
Like GP2, GP3 split its field into two groups for Monte Carlo qualifying, with the group with the faster pacesetter taking the pole position side of the grid.
Lotus driver Vainio led the way in the second segment and went quickly enough to take pole from group one leader Kevin Ceccon (Ocean), as the Auto GP champion put the tough start to his GP3 career at Barcelona behind him and earned a front row start.
Atech CRS' Tamas Pal Kiss also showed his best GP3 qualifying form so far as he closed right in on Vainio at the end of the second session to secure third on the grid, alongside championship leader Mitch Evans (MW Arden), who was Ceccon's closest rival in the first group.
Evans' team-mate David Fumanelli will share row three with Status driver Marlon Stockinger. Lotus duo Daniel Abt and Conor Daly were fourth in their respective sessions so complete the overall top eight.
Pos  Driver                  Team       Time       Session
 1.  Aaro Vainio             Lotus      1m28.008s  Group 2
 2.  Kevin Ceccon            Ocean      1m28.922s  Group 1
 3.  Tamas Pal Kiss          Atech CRS  1m28.123s  Group 2
 4.  Mitch Evans             MW Arden   1m29.108s  Group 1
 5.  David Fumanelli         MW Arden   1m28.218s  Group 2
 6.  Marlon Stockinger       Status     1m29.152s  Group 1
 7.  Daniel Abt              Lotus      1m28.653s  Group 2
 8.  Conor Daly              Lotus      1m29.246s  Group 1
 9.  Antonio Felix da Costa  Carlin     1m28.667s  Group 2
10.  Will Buller             Carlin     1m29.757s  Group 1
11.  Tio Ellinas             Manor      1m29.029s  Group 2
12.  Alice Powell            Status     1m30.400s  Group 1
13.  Kotaro Sakurai          Status     1m29.248s  Group 2
14.  Alex Brundle            Carlin     1m30.436s  Group 1
15.  Patric Niederhauser     Jenzer     1m29.952s  Group 2
16.  Fabiano Machado         Manor      1m30.637s  Group 1
17.  Dmitry Suranovich       Manor      1m30.610s  Group 2
18.  Robert Visoiu           Jenzer     1m30.782s  Group 1
19.  Vicky Piria             Trident    1m31.023s  Group 2
20.  John Wartique           Atech CRS  1m31.427s  Group 1
21.  Ethan Ringel            Atech CRS  1m31.144s  Group 2
22.  Antonio Spavone         Trident    1m31.474s. Group 1
23.  Robert Cregan           Ocean      1m33.163s  Group 2
24.  Jakub Klasterka         Jenzer     1m32.061s  Group 1
25.  Carmen Jorda            Ocean      1m34.793s  Group 2
26.  Matias Laine            MW Arden   1m49.760s  Group 1