Ross Brawn convinced Michael Schumacher will bounce back from slow start
| | |
| --- | --- |
| By Jonathan Noble | Wednesday, May 23rd 2012, 15:59 GMT |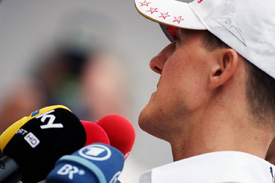 Ross Brawn has complete faith that Michael Schumacher will be able to deliver the frontrunning performances that have eluded him so far this season - despite his troubled start to the campaign.
Schumacher has scored just two points in the first five races, and has been given a five-place grid penalty for this weekend's Monaco Grand Prix following a collision with Bruno Senna in Spain.
But despite his troubles, Brawn sees nothing but supreme motivation from his driver – and reckons that when circumstances click together then he will be able to produce much better results.
"I think he has actually been very good this year," said Brawn ahead of the Monaco Grand Prix. "We have not achieved the results we wanted to but if you look under the surface, he has been pretty good this year.
"We need a few more things to fall in place, and then I think we can still have a lot of fun with Michael. I think rather like there has been a lot of attention on his incident in Spain, there will be massive attention if he does succeed and does well – which I am looking forward to."
Brawn said that he also was not surprised that Schumacher felt more motivated by the strong start to the season Mercedes has enjoyed, rather than downbeat about his own disappointments.
"That is Michael very much," explained Brawn. "Michael likes a challenge and that is what F1 is about. Michael likes that challenge and he does dig pretty deep when things are not perhaps going as well as they might.
"Collectively we have not achieved the results that perhaps we could have achieved this year, but what we see is the core performance is very good. So if we get everything aligned we can start to get some decent results – and that is typical of Michael."
Speaking about Schumacher's penalty for the Monaco GP, Brawn said: "It was a bit unfortunate for here, that is for sure.
"I kind of thought it [the incident with Senna] was one of those things where you are walking down the street, someone is coming towards you and you both go the same way at the same time - so you bump into each other. It was no more than that. It was a bit unfortunate but we will do our best to overcome it."