Bruno Senna says he is not worried by talk about his F1 future at Williams
| | |
| --- | --- |
| By Pablo Elizalde and Jonathan Noble | Wednesday, May 23rd 2012, 14:07 GMT |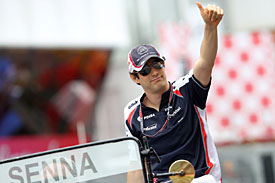 Bruno Senna says he is untroubled by speculation about his future at the Williams team following Pastor Maldonado's win in Spain.
While the Venezuelan went on to give the team its first victory since the 2004 season, Senna endured a difficult weekend, qualifying near the back and retiring from the race after a crash with Michael Schumacher for which the German was given a penalty.
Senna says the rumours about him being under pressure to perform are normal F1 gossip, and reckons they will be silenced once he achieves strong results.
"It's always important to have good results and consistency," said Senna in Monaco on Wednesday. "There's been a lot of talk that I was in trouble, but people forget very quickly that up until the last race I was ahead of Pastor in the championship.
"I had some good races, and then because I had a bad weekend and Pastor won the race people say 'Oh, he's out' and everything. It's typical F1 gossip and it's like a quick fire, but the only way to put it out is to shut people's mouths by having good results."
The Brazilian, who raced for the Renault team in the latter part of the 2011 season, is expecting things to be easier for him once Formula 1 competes at the tracks he raced on last year.
"If you think about it it's been a few years since I drove a Formula 1 at this track, and even then it wasn't particularly competitive," he added.
"For sure when I get to Spa I'm going to be much more comfortable with everything, but for this race and for Montreal I have P1 and then in Valencia, Silverstone, Nurburgring and Hungary is Valtteri [Bottas] back in the car."
Senna is also optimistic he can make progress this weekend in Monte Carlo after having analysed the set-up used by Maldonado to win in Spain.
"We learned a lot from Pastor's car in Barcelona. There were a few differences in the set-up from his car to my car and I guess they were in the right direction. So we are going to try to get the car more to what his was like in Barcelona and he's going to start with the same sort of set-up, and then we'll see how it behaves.
"But it's very encouraging that the car was so competitive in the last sector like that. To be fair, Pastor did a great job keeping his tyres together all the way to the last sector. When he got to the third sector his tyres were still alive so there's a car factor but there's a Pastor factor as well. He did a very good job."