Boost levels will remain unchanged for the Indianapolis 500
| | |
| --- | --- |
| By Mark Glendenning | Wednesday, May 23rd 2012, 08:30 GMT |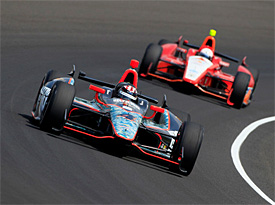 IndyCar has confirmed that it will not change the boost levels for this weekend's Indy 500 for what it describes as "competition and safety" reasons.
The series mandates a boost level of 130 kilopascals for Superspeedway events, although it added an additional 10 kPa for Fast Friday and both days of qualifying last week, resulting in an estimated 40-50 extra horsepower and speeds of more than 226mph.
IndyCar vice-president of competition Will Phillips said that keeping the higher boost levels for the race had been considered, but rejected after discussion with the three engine manufacturers.
"After evaluating a variety of options and speaking with all engine manufacturers, we feel it is best from a both a competition and safety standpoint to maintain the current superspeedway boost level for our Lotus-powered entrants," said Phillips.
"At this point, there are too many unknown variables in allowing an engine to run a full-race distance at the increased boost level, so it's something we are going to need to explore further.
"At the beginning of the season we mandated there would be no changes to performance regulations prior to June 18, and we plan to maintain that time frame."
Beaux Barfield, president of competition for INDYCAR, said: "From a safety standpoint, we will be keeping a close eye on speeds as the race progresses to ensure that all cars are within 105 per cent of the race leader's pace. We want to make sure that we are managing the speeds and car placement as the drivers navigate through traffic."
The additional boost levels would have caused concern to at least two of the three engine manufacturers.
Lotus is currently struggling to remain within the 105 per cent range of the frontrunners, while Honda is concerned that there is still a discrepancy between its single-turbo engine and the twin-turbo version used by Chevrolet despite having been allowed to make a recent parity change. This deficit would be magnified by the addition of more boost.