Chevrolet drivers say Indianapolis 500 pole 'perfect response' to Honda in turbocharger row
| | |
| --- | --- |
| | Monday, May 21st 2012, 13:53 GMT |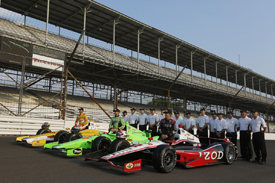 Chevrolet's IndyCar drivers say the American firm's domination of Indianapolis 500 qualifying was the ideal response to the recent controversy over the series' turbocharger rules.
Seventh-place qualifier Josef Newgarden (Sarah Fisher Hartman Racing) is the only Honda-powered driver in the top 10 on the Indy grid, as Chevrolet monopolised the leading positions.
Chevrolet recently protested IndyCar's decision to allow Honda to modify its compressor cover in the interests of ensuring parity between the Japanese manufacturer's single turbocharger layout and Chevy's twin turbo. The protest was eventually rejected, leading to fears from the Chevrolet contingent that Honda would dominate at Indianapolis, but so far the opposite has been true.
Pole-winner Ryan Briscoe admitted that Chevrolet's qualifying results had been particularly satisfying in light of the row.
"We have not been happy about the outcome of the 'Turbogate'," said Penske driver Briscoe. "Seemed like a bit of an unfair rule change but Chevy has worked hard.
"We just kept our heads down. I can't tell you how proud I am to run with the bow tie here. The history of Chevrolet and their involvement... they are there, every step of the way. They continually are giving us updates and they just don't stop working.
"They are certainly the motor to have today, and they have been, I believe, all year long."
Ryan Hunter-Reay, who qualified third between his Andretti Autosport team-mates James Hinchcliffe and Marco Andretti, admitted he had been concerned that the turbo ruling would leave his Chevy-engined team struggling at Indy.
"Of course you're worried," he said. "Honda is a very able engine manufacturer. They know how to win races and any time they can add anything, you're thinking, 'oh, boy, what's it going to be like?' But Chevy has done a tremendous job."
Graham Rahal was the top qualifier for Honda's flagship Ganassi team in 12th place. The American conceded that Chevrolet was currently in a commanding position.
"Chevy certainly has a little bit of an advantage at this point," Rahal said. "When they turned the wick up [on Friday], the speeds were almost two miles per hour more than most Hondas could go."
He added: "The Chevy just, right now, has more power. It's as simple as that. But the car definitely moves around. I'm not going to tell you it's easy. [Qualifying was] the hardest four laps I think I've driven around here."
2012 Indianapolis 500 grid:
Pos  Driver               Team/Car                      Speed
 1.  Ryan Briscoe         Penske DW12-Chevy             226.484
 2.  James Hinchcliffe    Andretti DW12-Chevy           226.481
 3.  Ryan Hunter-Reay     Andretti DW12-Chevy           226.240
 4.  Marco Andretti       Andretti DW12-Chevy           225.456
 5.  Will Power           Penske DW12-Chevy             225.422
 6.  Helio Castroneves    Penske DW12-Chevy             225.172
 7.  Josef Newgarden      Fisher DW12-Honda             224.037
 8.  Tony Kanaan          KV DW12-Chevy                 224.751
 9.  EJ Viso              KV DW12-Chevy                 224.422
10.  Rubens Barrichello   KV DW12-Chevy                 224.264
11.  Alex Tagliani        Herta DW12-Honda              224.000
12.  Graham Rahal         Ganassi DW12-Honda            223.959
13.  Ana Beatriz          Andretti/Conquest DW12-Chevy  223.920
14.  Charlie Kimball      Ganassi DW12-Honda            223.868
15.  Scott Dixon          Ganassi DW12-Honda            223.684
16.  Dario Franchitti     Ganassi DW12-Honda            223.582
17.  James Jakes          Dale Coyne DW12-Honda         223.482
18.  JR Hildebrand        Panther DW12-Chevy            223.422
19.  Takuma Sato          Rahal DW12-Honda              223.392
20.  Townsend Bell        Schmidt DW12-Honda            223.134
21.  Justin Wilson        Dale Coyne DW12-Honda         222.929
22.  Michel Jourdain Jr   Rahal DW12-Honda              222.893
23.  Simon Pagenaud       Schmidt DW12-Honda            222.891
24.  Sebastian Saavedra   AFS/Andretti DW12-Chevy       222.811
25.  Sebastien Bourdais   Dragon DW12-Chevy             223.760
26.  Wade Cunningham      Foyt DW12-Honda               223.258
27.  Oriol Servia         Panther/DRR DW12-Chevy        222.393
28.  Ed Carpenter         Carpenter DW12-Chevy          222.324
29.  Mike Conway          Foyt DW12-Honda               222.319
30.  Katherine Legge      Dragon DW12-Chevy             221.624
31.  Bryan Clauson        Fisher DW12-Chevy             214.455
32.  Simona de Silvestro  HVM DW12-Lotus                214.393
33.  Jean Alesi           Fan Force DW12-Lotus          210.094