Alain Menu quickest again in World Touring Car practice two at the Salzburgring
| | |
| --- | --- |
| | Saturday, May 19th 2012, 11:17 GMT |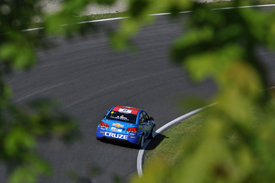 Alain Menu set the fastest time in the final World Touring Car free practice session at the Salzburgring before qualifying this afternoon, repeating his form from practice one.
The dominant force in this year's WTCC, the three factory RML Chevrolets, were separated by just 0.073 seconds. Each of the trio had taken turns in first place. Championship leader Yvan Muller led Slovakia Ring victor Rob Huff in the closing stages of the session, but pitted moments prior to the chequered flag and was unable to respond to a late effort from Menu.
As in the opening free practice session, the tight chicane at Turns 1 and 2 caught out several of the drivers, with all of the Chevrolets taking either to the escape road or, in Huff's case, the gravel.
Italian Pasquale di Sabatino enjoyed one of his most competitive sessions of the year in fourth. The bamboo-engineering Chevrolet driver continues to acclimatise to the WTCC following his career in single-seaters.
For much of the half-hour session the five Chevrolets on the entry occupied the top-five positions, suggesting that the high-speed Salzburgring circuit flatters the qualities of the Cruze.
Lukoil Racing's Gabriele Tarquini eventually broke up the Chevrolet stranglehold by claiming fifth in his SEAT, ahead of the second bamboo car of British Touring Car graduate Alex MacDowall.
Tarquini used the escape road on no fewer than three occasions, causing the race director to issue a warning about respecting the track limits at the chicane.
Spanish teenager Pepe Oriola has relatively recent experience of the Salzburgring, having finished second in the European Touring Car Cup at the of the Austrian venue last July. The Tuenti Racing driver took seventh in his Leon WTCC, ahead of team-mate Tiago Monteiro in the 1.6T-powered Leon.
The session was red-flagged twice. The first stoppage was caused when Darryl O'Young's Special Tuning SEAT hit a tyre pile on the inside of Turn 1, forcing the Leon to stop in the middle of the chicane.
Hungaroring podium finisher Mehdi Bennani (Proteam) and fellow BMW independent runner Gábor Weber (Zengo) also suffered off-track moments, at Turns 9 and Turn 13 respectively, to cause the second appearance of the red flags.
Pos  Driver                Team/Car             Time       Gap
 1.  Alain Menu            Chevrolet            1m27.304s
 2.  Yvan Muller           Chevrolet            1m27.374s  + 0.070s
 3.  Rob Huff              Chevrolet            1m27.377s  + 0.073s
 4.  Pasquale di Sabatino  bamboo Chevrolet     1m27.995s  + 0.691s
 5.  Gabriele Tarquini     Lukoil SEAT          1m28.024s  + 0.720s
 6.  Alex MacDowall        bamboo Chevrolet     1m28.103s  + 0.799s
 7.  Pepe Oriola           Tuenti SEAT          1m28.474s  + 1.170s
 8.  Tiago Monteiro        Tuenti SEAT          1m28.546s  + 1.242s
 9.  Franz Engstler        Engstler BMW         1m28.604s  + 1.300s
10.  Norbert Michelisz     Zengo BMW            1m28.662s  + 1.358s
11.  James Nash            Arena Ford           1m28.663s  + 1.359s
12.  Alberto Cerqui        ROAL BMW             1m28.837s  + 1.533s
13.  Tom Coronel           ROAL BMW             1m28.839s  + 1.535s
14.  Stefano D'Aste        Wiechers BMW         1m28.963s  + 1.659s
15.  Tom Chilton           Arena Ford           1m29.112s  + 1.808s
16.  Aleksei Dudukalo      Lukoil SEAT          1m29.205s  + 1.901s
17.  Mehdi Bennani         Proteam BMW          1m29.312s  + 2.008s
18.  Charles Ng            Engstler BMW         1m29.314s  + 2.010s
19.  Darryl O'Young        Special Tuning SEAT  1m30.027s  + 2.723s
20.  Tom Boardman          Special Tuning SEAT  1m30.043s  + 2.739s
21.  Gabor Weber           Zengo BMW            1m30.700s  + 3.396s