Kyle Busch secures pole for NASCAR's All-Star race at Charlotte
| | |
| --- | --- |
| By Diego Mejia | Friday, May 18th 2012, 23:59 GMT |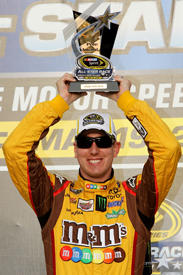 Kyle Busch claimed pole position for Saturday night's NASCAR Sprint All-Star race.
The Joe Gibbs Racing driver and his team delivered the best combined performance under the unique qualifying format, consisting of three flying laps and including a four-tyre pitstop.
Ryan Newman and his Stewart-Haas crew had previously delivered the benchmark and stood at the top of the leaderboard for most of the session, but Busch, the last driver out on track after setting the pace in practice, bumped him from the top spot.
"We knew we'd be very quick here and I thought we had a good chance at the pole," said Busch, who was on pole for the same event a year ago. "I think we've got a little bit of a system going on here for this place. That's two in a row for us."
Busch's team-mate Denny Hamlin, whose crew set the fastest pitstop time, will line up third in the grid for the 90-lap, five-segment race, with Roush Fenway's Greg Biffle starting beside him on the second row.
Richard Childress Racing's Kevin Harvick, the 2007 All-Star winner, rounded out the top-five ahead of two-time event winner Jimmie Johnson, whose team won Thursday's pit crew challenge, handing the five-time champion the strategic advantage of the first pit stall.
Kasey Kahne was on a good qualifying run, but after completing the mandatory stop he lost control of his Hendrick Motorsports Chevrolet on cold tyres between Turns 3 and 4, hitting the wall hard and being forced to switch to a back-up car.
Penske's Brad Keselowski set the fastest first-lap time and was provisionally third after completing his run, but two loose lug nuts meant he dropped down the order. Roush Fenway's Matt Kenseth and Phoenix Racing's Kurt Busch were among those hit by penalties as well.
Penske's AJ Allmendinger beat Michael Waltrip Racing's Martin Truex to pole for the Sprint Showdown, a 40-lap race that gives entries for the All-Star Race to the top two finishers.
All-Star qualifying:
Qualifying format is three flying laps including pitstop

Pos  Driver              Team/Car                     Time       Gap
 1.  Kyle Busch          Gibbs Toyota                 1m59.112s
 2.  Ryan Newman         Stewart-Haas Chevrolet       1m59.821s  + 0.709s
 3.  Denny Hamlin        Gibbs Toyota                 2m00.168s  + 1.056s
 4.  Greg Biffle         Roush Fenway Ford            2m00.420s  + 1.308s
 5.  Kevin Harvick       Childress Chevrolet          2m00.622s  + 1.510s
 6.  Jimmie Johnson      Hendrick Chevrolet           2m01.076s  + 1.964s
 7.  Paul Menard         Childress Chevrolet          2m01.147s  + 2.035s
 8.  Jeff Gordon         Hendrick Chevrolet           2m01.297s  + 2.185s
 9.  Tony Stewart        Stewart-Haas Chevrolet       2m01.482s  + 2.370s
10.  Regan Smith         Furniture Row Chevrolet      2m01.721s  + 2.609s
11.  Trevor Bayne        Wood Brothers Ford           2m01.861s  + 2.749s
12.  Clint Bowyer        Waltrip Toyota               2m02.292s  + 3.180s
13.  Carl Edwards        Roush Fenway Ford            2m02.420s  + 3.308s
14.  David Ragan         Front Row Ford               2m04.183s  + 5.071s
15.  Matt Kenseth        Roush Fenway Ford            2m05.351s  + 6.239s
16.  Mark Martin         Waltrip Toyota               2m06.624s  + 7.512s
17.  Kurt Busch          Phoenix Chevrolet            2m08.074s  + 8.962s
18.  Marcos Ambrose      Petty Ford                   2m08.784s  + 9.672s
19.  Brad Keselowski     Penske Dodge                 2m10.436s  + 11.324s
20.  Kasey Kahne         Hendrick Chevrolet

Showdown qualifying:

Pos  Driver              Team/Car                     Time       Gap
 1.  AJ Allmendinger     Penske Dodge                 28.057s
 2.  Martin Truex Jr     Waltrip Toyota               28.265s  + 0.208s
 3.  Dale Earnhardt Jr   Hendrick Chevrolet           28.272s  + 0.215s
 4.  Jeff Burton         Childress Chevrolet          28.467s  + 0.410s
 5.  Aric Almirola       Petty Ford                   28.609s  + 0.552s
 6.  Landon Cassill      BK Toyota                    28.620s  + 0.563s
 7.  Juan Pablo Montoya  Earnhardt Ganaasi Chevrolet  28.622s  + 0.565s
 8.  Bobby Labonte       JTG Daugtherty Toyota        28.667s  + 0.610s
 9.  Travis Kvapil       BK Toyota                    28.727s  + 0.670s
10.  David Stremme       Inception Toyota             28.753s  + 0.696s
11.  Casey Mears         Germain Ford                 28.762s  + 0.705s
12.  David Reutimann     Baldwin Chevrolet            28.778s  + 0.721s
13.  Joey Logano         Gibbs Toyota                 28.788s  + 0.731s
14.  Stephen Leicht      Joe Falk Chevrolet           28.922s  + 0.865s
15.  Scott Speed         Leavine Family Ford          28.927s  + 0.870s
16.  David Gilliland     Front Row Ford               28.928s  + 0.871s
17.  Mike Bliss          Humphrey Smith Toyota        28.955s  + 0.898s
18.  JJ Yeley            Robinson-Blakeney Toyota     29.025s  + 0.968s
19.  Jamie McMurray      Earnhardt Ganaasi Chevrolet  29.047s  + 0.990s
20.  Joe Nemechek        NEMCO Toyota                 29.081s  + 1.024s
21.  Josh Wise           Front Row Ford               29.188s  + 1.131s
22.  Tony Raines         Baldwin Chevrolet            29.578s  + 1.521s