Pirelli denies unpredictable 2012 season is bad for Formula 1
| | |
| --- | --- |
| By Jonathan Noble | Friday, May 18th 2012, 10:24 GMT |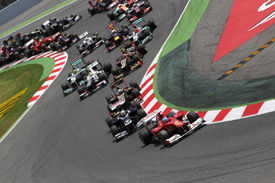 Pirelli motorsport director Paul Hembery has hit back at suggestions that the 2012 Formula 1 season is now too unpredictable - and thinks the variety of winners is of huge benefit to everyone involved in the sport.
With five different winners from the first five races, there has been some criticism, including from Red Bull owner Dietrich Mateschitz, that the tyres are playing too big a role in the outcome of races and are turning F1 into a lottery, which could prove to be a turn-off for some fans.
Hembery has always insisted, however, that the tyres are not the dominant factor in deciding races, and that the best engineers, teams and drivers are coming out on top.
And he thinks that having more winners in F1 can only be a positive thing for both fans and teams.
"The vast majority of feedback we get is that people are enjoying the races," Hembery told AUTOSPORT. "At the start of the year, if we had said five different winners and five different cars then everyone would have suggested you had been smoking something - but we have got it.
"And I think the vast majority of fans will be pleased to see exciting races. Anyone who begrudges [Pastor] Maldonado's win in Spain with Williams is someone who needs to get out a bit more, because the whole paddock was delighted. I think for a lot of people's views, that is what they want to see."
Hembery thinks that F1 delivering race-winning opportunities to teams like Williams is great news, and can have positive commercial implications for the sport.
"There are a lot of teams here who have to find budgets, find sponsors and justify their presence in F1, and if they do get the profile then that is great. Spain was an excellent win for Williams, but we saw Sauber getting a great result in Malaysia and we saw Paul di Resta have a good race in Bahrain with Force India.
"These are all aspects that are important for all these teams. Over a season, you will still find the best drivers, the best cars and the best designers will win. There are 20 races, so that will happen.
"Just look at the championship. It has absolutely closed up, people have been asking for it for years. We have got it, and some people still are not happy."
Hembery reckons that some teams are finally getting a full understanding of how to get the best out of the tyres with the 2012 cars, and he expects the season to settle down more from now on.
"We don't want to be the major element of F1 racing. It needs to be down to the engineers and drivers and cars, so from that perspective we would not like it to get any more exciting.
"In time the engineers will master what they are doing and, give it is a few more races, things will settle down. We had some indications in Spain that three or four teams had made some progress. We felt that was borne out with some of the results we saw."