NASCAR to investigate pit-road altercation at Darlington
| | |
| --- | --- |
| By Diego Mejia | Monday, May 14th 2012, 08:13 GMT |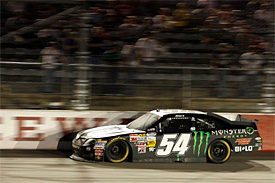 NASCAR officials said they would investigate a pit-road altercation after the conclusion of Saturday's race at Darlington involving Ryan Newman's Stewart Haas and Kurt Busch's Phoenix Racing teams.
The scuffle took place after Busch hit he back of Newman's car on pit-road once the race had finished. Crew members from both teams were then involved in a shoving incident, where a NASCAR official trying to split two crew members ended up lying on the hood of Busch's #51 car.
NASCAR's vice president of competition Robin Pemberton said they were reviewing the facts of what took place, having heard from some of those involved. He added that any resulting penalties, if levied, would be announced later this week.
"We're still getting all the facts straight," Pemberton said. "We talked to Ryan a little bit and he talked to Kurt afterwards and Kurt said that he didn't mean to hit him on pit road, he was taking his helmet off and looked up and he ran in the back of him.
"There was a lot of stuff going on down there and nobody said anything other than maybe [a NASCAR official] fell back on the hood. Our guys didn't say anything and we didn't see that there was anything aggressive towards one of our officials."
Busch spun with six laps remaining after he had been running in the top 10 late in the race. Newman, who was following him at the time, also spun while trying to avoid hitting the Phoenix Racing Chevrolet.
The 2004 Cup champion was filmed verbally abusing an ESPN pit reporter during the 2011 season-finale at Homestead, which alongside previous incidents, resulted in him losing his drive with Penske Racing.
"It's easy to say that Kurt blew a fuse again," Newman told SI.com. "I'm not sure why he did it and tried to run over our guys and NASCAR officials. And nobody is. I think the chemical imbalance speaks for itself. Kurt drilled me in pitlane and said that he was taking his helmet off, and he didn't see where he was going.
"I'm pretty sure there were 42 other guys that are taking their helmets off and doing whatever for the last 10 years, and that's the first time that's happened to me.
"Circumstances I think are that he lied and was so frustrated that he doesn't know how to deal with his anger."