Carroll Shelby dies aged 89
| | |
| --- | --- |
| | Saturday, May 12th 2012, 02:02 GMT |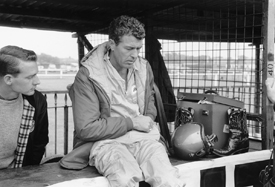 Former racing driver and legendary auto designer Carroll Shelby died on Thursday at the age of 89.
Shelby was a highly successful sportscar racer in the 1950s, winning the 1959 Le Mans 24 Hours in an Aston Martin shared with Roy Salvadori. His career also encompassed Formula 1, where he would make eight starts in championship rounds, including a best finish of fourth in the 1958 Italian Grand Prix.
He also set a number of speed records at the Bonneville flats before his racing career was cut short due to his heart condition. However, he remained involved in racing, building the legendary Shelby Cobra sportscar before starting his long association with Ford in the 1960s.
Following the launch of the celebrated Shelby Mustang, he would later be key in the development of the Le Mans winning Ford GT-40.
"In the history of our company there are a handful of men who have stamped their imprint on the heart and soul of what we do at Ford Racing and Carroll Shelby is definitely one of them," said Ford racing director James Allison.
"I'm just so fortunate to have had the opportunity to meet him and our thoughts and prayers go out to his family. We at Ford and his legions of fans will have a silent moment to reflect on what he's done for the company. It's personal for me and I'm sure it's personal for many fans."
Shelby's memory was honoured on Friday night at Darlington Raceway with a moment of silence before the start of the NASCAR Nationwide Series race.
"Carroll Shelby was a giant in the motorsports industry and the automobile industry overall," said NASCAR president Mike Helton. "Known primarily as an innovative automotive designer, he started building his legacy as an outstanding driver. Along the way, his name became iconic.
"On a personal level, he was simply a good friend to so many of us. Our thoughts and prayers are with his family."
Among a host of tributes to Shelby on social media sites, American racing legend Mario Andretti tweeted: "Sad to hear legendary Carroll Shelby passed away. His automotive contributions made him a real icon."