Felipe Massa questions value of Mugello's F1 test
| | |
| --- | --- |
| By Pablo Elizalde | Thursday, May 10th 2012, 14:56 GMT |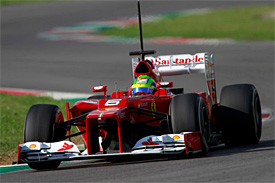 Felipe Massa has questioned the value of last week's test at Mugello, saying it felt like a lost test that could have taken place before the start of the season.
Formula 1 teams had their first proper in-season test in four years at the Italian track last week, and some questioned the choice given the nature of the circuit, which resembles few of the tracks currently on the calendar.
"The most important part of this break of three weeks between Bahrain and the Spanish Grand Prix was obviously the test in Mugello," he wrote in his blog on Ferrari's website.
"It was good to make use of this extra time, although I am not sure quite how useful it was.
"Don't get me wrong, it's always useful to test, but in order to run at Mugello, we 'lost' one test before the start of the season and I'm not sure if that is the way to go."
Massa is still convinced Ferrari made a step forward in terms of performance in the test, although he is not making any predictions about how much it will help the team close the gap to the front.
"It is a bit too early to say how much progress we have made with this test and the real answer will not come until maybe the qualifying session in Barcelona on Saturday," he said.
"But we have made a step forward, with new parts, which Fernando tried on the last of the three days in Mugello, producing more performance and now we will have even more new parts to assess on Friday at the Catalunya track.
"There is no doubting how hard everyone has been working at Mugello during this break in the calendar and even before then, but all the other teams will have been developing their cars.
"We have said it many times before, but it is still true today; we must make a bigger step forward than the teams who were faster than us in the first part of the season."