Toro Rosso boss Franz Tost says Formula 1 is better than ever
| | |
| --- | --- |
| By Edd Straw and Dieter Rencken | Thursday, May 10th 2012, 09:17 GMT |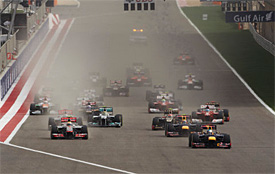 Scuderia Toro Rosso team principal Franz Tost has described Formula 1 in 2012 as "the best" he has seen.
Tost, a former Austrian Formula Ford Champion, believes that the unpredictable opening four races of the season has made the sport more appealing.
"The present F1 is the best F1 I have seen so far," Tost told AUTOSPORT. "If you looked at the first four races, we have had four different winners in four races.
"The races are not decided until the chequered flag and there is no team far ahead. There are hard fights in the midfield and all of the people that I talk to say F1 has never been so interesting. "
Tost believes that the on-track success of F1 is also replicated by the commercial success of the sport.
He paid tribute to Bernie Ecclestone's influence in expanding the worldwide reach of grand prix racing while maintaining the core of European races.
"We are racing all over the world thanks to Bernie," said Tost. "These new markets are so important for our sponsors.
"Europe is the motherland of F1 and we must never forget the important races there, which are Silverstone with its history, Monza either the Nurburgring or Hockenheim in Germany, then Spain, Spa and Monaco. But then the rest of the races should be overseas.
"It is important to race in Russia, China and India. Ideally, we would need two races in South America, Brazil and Argentina for example, and fortunately we are now racing in America which is so important for our sponsors. And we are also in Japan and the Middle East."
Tost also believes that the New York grand prix, which will join the calendar in 2013, is a big boost for the sport.
"New York is a highlight that will increase the popularity of F1," he said.
To find out about Scuderia Toro Rosso's ongoing expansion plans, pick up a copy of the latest AUTOSPORT magazine, out now.