| | |
| --- | --- |
| Ducati technical chief Filippo Preziosi says Ducati still believes in Valentino Rossi | |
| | |
| --- | --- |
| By Matt Beer and Michele Lostia | Tuesday, May 8th 2012, 13:46 GMT |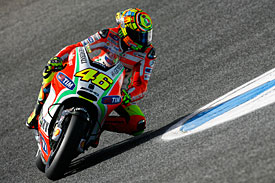 Ducati technical chief Filippo Preziosi says the team still has complete faith in rider Valentino Rossi and his crew chief Jeremy Burgess, despite the Italian squad losing further ground at the start of the 2012 MotoGP campaign.
Rossi and Burgess have yet to come close to replicating the success they achieved at Honda and Yamaha in Ducati colours, with the seven-time MotoGP champion only taking a single podium finish in 2011.
This year Rossi has so far appeared even less competitive than at the end of last season, but Preziosi said Ducati remained confident that making its bike suit Rossi's style was the best route to success.
"For sure this challenge is being done because we want to build a bike for Valentino, because we believe that a bike that Valentino likes, is a good bike for all the riders," Preziosi told journalists at the abandoned Estoril test.
"We are following the direction of what Valentino suggests. Of course we are trying to do that at the best of our capability, which is not enough right now to be faster than Honda. But for sure we will try in the direction that Valentino shows us."
Preziosi also said Ducati was still taking Burgess' lead on set-up.
"We give Jeremy 100 per cent freedom to define, with Valentino, what the best set-up is," he said. "So as Ducati, our duty is just to supply material, and we believe that the crew chief is imperative in the box.
"The way of working is to put the right person in the right position and allow that person to do what he thinks is best. We can suggest what our ideas are, but the final decision, day by day, practice by practice, is made by Jeremy speaking with Valentino."
Rossi started using team-mate Hayden's set-up from the Jerez race, which Preziosi felt was both a sign of Rossi's willingness to try different solutions, and helpful for the team's development.
"The fact that he's gone back with the set-up seems to me like a sign of open-mindedness," Preziosi said. "Valentino, since the first Sepang test, has had a series of tools that, together with his team - which is fully autonomous on the track - he steered in a certain direction.
"But he also had this 'basic' set-up solution, which is anyway the same we had at the beginning of last year. Now, with both riders on similar choices, we can try to share the workload among them."