| | |
| --- | --- |
| Casey Stoner admits he feared Jorge Lorenzo's pressure would tell after hanging on for Portuguese MotoGP win | |
| | |
| --- | --- |
| By Sam Tremayne | Sunday, May 6th 2012, 13:46 GMT |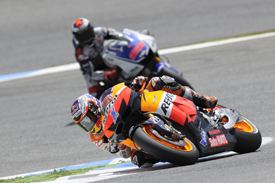 Casey Stoner says he was lucky to hang on to MotoGP victory at Estoril as huge pressure from Jorge Lorenzo exacerbated his own struggles with chattering.
Honda rider Stoner blazed away from the field in the opening stages, opening up a lead of 1.4 seconds after just three laps, but was then gradually reeled in by Yamaha's Jorge Lorenzo.
Stoner attributed that pattern to huge chattering woes suffered during the race, but said changing his riding style helped ease the issue and allowed him to keep Lorenzo behind him for the final laps.
"There was huge pressure throughout. Jorge caught me and I was just holding on," Stoner said after collecting his 35th MotoGP victory.
"It felt really good on the first lap with fresh tyres, but as soon as that wore off we had the most severe chattering, which we also found yesterday in qualifying.
"We always struggle a bit more in warmer conditions, we can't get the tyres to work properly - not in terms of wear, but in terms of chatter. We had that in the beginning and I lost the front a couple of times so I had to back off, and then Jorge caught up and I was lucky to hang on.
"From that moment I was trying to keep Jorge behind me. There was huge pressure and I was trying different lines. I found a certain way to ride, started to feel bit better and pushed a bit more, and was able to open up enough of a gap."