NASCAR drivers wary of engine temperatures at Talladega
| | |
| --- | --- |
| By Diego Mejia | Friday, May 4th 2012, 22:59 GMT |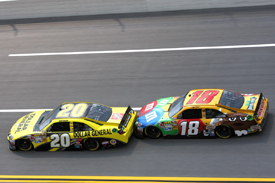 NASCAR Sprint Cup Series drivers expect little tandem racing on Sunday at Talladega as engine temperatures are running more on the edge than in the season-opener at Daytona.
The 2012 season's second restrictor-plate race will see a technical package unchanged from the Daytona 500. NASCAR introduced a number of technical and sporting rules tweaks for the first race of the season, hoping to get cars racing in packs again rather than the tandems that prevailed for the past two years at both superspeedways.
Those changes included a smaller and higher air intake for the radiator, a lower pressure on its relief valve, a lower rear bumper, a bigger restrictor-plate, a smaller rear spoiler, plus the banning of driver-to-driver radio communications.
With higher temperatures at Talladega this weekend relative to those of Daytona in February, drivers experienced overheating worries in Talladega practice even when not trying to bump-draft.
"I don't think you can stay together at all," said Kyle Busch. "We're running 230, 240 [degrees water temperature] just pack drafting and then once you get pushed from behind or you have somebody close to you, it kind of moves you forward a little bit to the car that's in front of you. You're already 245, 250. That's already borderline for our engines.
"You can probably take them to 260, 265 on water temperature before you start pushing water, but we don't want to jeopardise that and push water too early in the race and run ourselves out of water. Our limit is about 240 [degrees] until two [laps] to go."
Six-time Talladega winner Jeff Gordon said operating temperatures would be a 'major issue' during the race and expects NASCAR to review the current technical package before Sunday, when ambient temperatures are expected to raise slightly compared to Friday's practice sessions.
He added that under the current situation there is little the driver can do to prevent overheating, which he fears may translate into a long, dull race before the final dash to the flag.
"There is nothing we can do other than be in just complete clean air," said Gordon. "That is the thing, the one positive that I see out of it. We should see a lot less pushing - which I think is a good thing for the racing, but at the same time you want to be able to get aggressive enough to where you can get up there to that rear bumper of that car in front of you and not necessarily push them, just pack air there to try to get the momentum to try to make some passes.
He added: "I think there is a fine line between preventing the pushing and not being able to race hard at all."
Roush Fenway's Carl Edwards expects Sunday's race to be 'fun' despite the cooling restrictions and the high temperatures expected. He still foresees potential for multi-car accidents.
"If the weather stays warm like this and the cars are sliding around like they were out there I think it will be a real fun race," said Edwards. "This package seems to make it a little harder to bunch up and partner up. It will keep us, I think, in a big group. I am torn on that.
"It is worse because you have a better chance of being involved in somebody else's wreck but it is more fun and I guess fun is why we do this anyway. I think it is going to be as good as Talladega can be."
Ford drivers dominated events at Daytona in February - taking a front-row sweep, a duel victory and the win in the season-opener with Matt Kenseth. The Roush-Yates prepared FR9 unit is believed to have a cooling advantage over rival manufacturers, which may turn out to be crucial again at Talladega.
Friday's practice sessions was topped by Richard Petty driver Aric Almirola, as Fords took a top-three sweep in the final session with Kenseth and team-mate Greg Biffle trailing Almirola on the timesheets.