Lewis Hamilton believes the Spanish GP battle is wide open
| | |
| --- | --- |
| By Jonathan Noble | Friday, May 4th 2012, 11:37 GMT |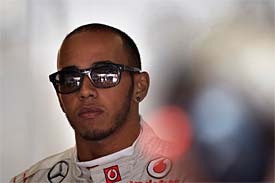 Lewis Hamilton thinks the battle for victory in the Spanish Grand Prix is wide open, thanks to the unpredictable start to the Formula 1 season.
With four different teams having won the opening four grands prix of the season, the former world champion is well aware that no outfit is heading in to the Barcelona event as favourite - even though McLaren has been on the front row at three races this year.
"Our performance at Barcelona during winter testing looked promising - but the form of the season is still very hard to read, so it's difficult to predict who'll be at the front next weekend," said Hamilton, who finished a close second behind Sebastian Vettel at the 2011 Spanish GP.
"Nonetheless, we had a great race there last year – I pushed Sebastian [Vettel] all the way to the finish. I think we have a comparatively stronger car this year, so I hope we can have another strong race."
Hamilton's chances of victory last year were hampered by his gear ratio choice - which failed to allow him enough straight-line speed to overtake Vettel in the DRS zone.
He believes that overtaking will again be a big challenge this year - which could further complicate tyre strategy and the balance between qualifying form and race pace.
"It'll be interesting to see how straightforward overtaking will be this year. It's always been a tough place for passing – as I found out last year – but I really hope DRS and KERS-Hybrid combined will make it a little easier," he explained.
"I think it's going to be one of the toughest tracks of the year for overtaking, but I'll be hoping for a strong performance in qualifying in order to make it as straightforward as possible in the race."
McLaren team principal Martin Whitmarsh thinks the Barcelona race will provide a more realistic picture of what the formbook will be like over the rest of the campaign - because the conditions will be similar to what can be expected at forthcoming events.
"Barcelona should give all the teams a clearer understanding of how the tyres behave in what's likely to be a 'typical' European race climate. But there will still be plenty to learn," he said.